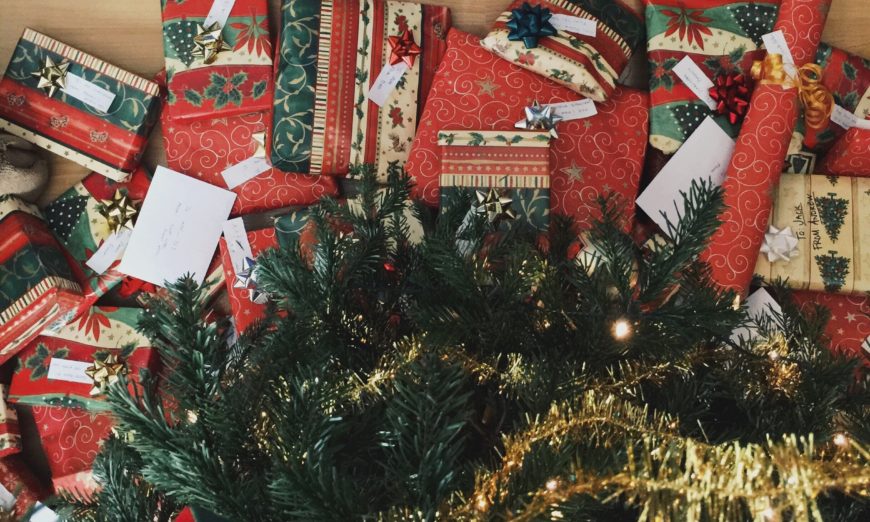 The holiday season is just around the corner and the scramble to hunt for the perfect gifts is quickly approaching. Inspire the pro or aspiring photographer in your life and help them hone the art of photo taking with these handpicked gift ideas.
Scroll down for a checklist including some gift giving inspiration and must haves that the photo capturers and memory makers in your life will appreciate:
Stocking Stuffers
Grey Card Kit
Serious photographers understand the use of a grey card.  Get a kit of grey, white and black from Cameron for under $20
Polarizing Filter
The Polarizer is the single most useful filter in digital photography.  From darkening blue skies to managing reflections and increasing colour depth, no one filter can make such a huge difference.  Just check the size that you need for the lens you intend to use it on.  Good polarizers aren't cheap, but will last a lifetime. The Hoya Circular Polarizers are possibly the best value for dollar on the market!
Photo Portfolio
A print speaks louder than words.  Art Directors, wedding clients and most others are tired of looking at hundreds of images on smartphones or tablets.  Show off your best work in a nice portfolio – available in a variety of sizes at very competitive prices. Itoya carries a wide range of styles and sizes that can meet all your needs
Framed Prints
You know what your friends and family will really appreciate?  One of your photos, printed, matted and framed and wrapped up ready for opening.  This very personal gift speaks volumes about how important the recipient is to you.
Accessories to Advance
Hoodman Loupe
Trying to check your images on small LCDs in bright sun,shoot in Live View or make videos off the LCD can be trying.  Look no further than a Hoodman Loupe to solve all these issues.  Get one with the extra elastic mounting strap and you are rocking – available in different sizes for all LCD displays
Fast Prime Lens
Every photographer will enjoy and benefit from a very optically fast prime lens.  For full frame shooters, the go to lens is a 50mm, typically an f/1.8  For crop sensor owners get a 35mm, typically around f/2.0.  Micro 4/3 owners should go with a 25mm, again about f/2.0  A fast prime lens is not only small and lightweight but provides great sharpness, nice out of focus highlights and works awesomely in low light without a flash.
Travel Tripod
When  you need something lightweight and portable for travelling or vacations, consider a.  A carbon fibre tripod with a ball head like thehe Cameron CF500.  Weighing only .73kg, it goes from 20cm to over 1.2m in height and  It folds down to only 32cm long for travel.  Plus you can easily convert it to a monopod for those tripod unfriendly sites.
Henry's Learning Lab Classes
Sometimes the easiest way to learn is in a small class with an instructor who is passionate about photography.  Whether it's learning to use your new camera, more advanced topics, a five week in depth class, drone flight safety or learning to manage and process your images with Lightroom, Henry's Learning Lab has you covered.
Gifts Under $1000
Walk Around Lens
When on a trip or out for a day, many photographers don't want to carry a lot of gear, or be changing lenses all the time.  A wide angle to medium telephoto lens is a great idea.  OEMs make some nice choices, but to keep budgets balanced, consider a lens from Sigma or Tamron.  For crop sensor owners, Sigma's 18-250mm is really popular as is Tamron's really excellent 16-300mm.  Full frame users won't get in under $1000, but within pitching range is Tamron's killer 28-300mm.
Micro 4/3 users will love Tamron's 14-150mm.
Wide Angle Zoom
Sometimes the wide end of the kit lens or your walk around lens just isn't wide enough.  For crop sensor users, OEMs, Sigma and Tamron all build excellent wide angle zooms starting around 10mm and ending between 20mm and 24mm.  Nice, lightweight, incredible fields of view and great sharpness.  (Full frame users will find solutions for this in the next bracket.
Dedicated TTL Hotshoe Flash
Every photographer needs a portable sun that can be used off camera wired or wirelessly.  For Nikon owners, I am very impressed by their new SB-5000.  Canon owners will really get a lot out of the new 600EX-RT II.  If you shoot Sony, Panasonic or Fujifilm they all make solid flashes.  You can also look to the third party channels including Metz, Phottix and Cameron for solid alternatives.
13" Wide Capable Photo Printer
Printers come in two different ink types, dye for fast drying on resin coated papers, and pigments for longevity on all papers and canvases.  A photo is not really a photo until it's printed and put in an album, a portfolio or on the wall.  Epson's P400 and P600 are excellent printers that will last for years.  Canon's Pixma Pro lineup includes the Pro 100, the Pro 10 and the Pro 1.  These are excellent printing options as well.
Macro Lens
There's always a lot of interest in close up and macro photography and the good news is that no matter what kind of camera you use, there are macro lenses that will deliver incredible quality for far less than the top of this category.  Nikon's 60mm micro Nikkor is a great choice.  Canon has a 60mm.  Pentax has a 50mm.  Olympus has a really sharp 60mm.  Panasonic delivers up the Leica 45mm.  Sony has a very fine 50mm.  Macro lenses are built with their special purpose in mind and tend to be tack sharp centre to corner and exhibit the very least distortions and vignetting of any lens you can use.
You're Worth It
Wide Angle Zoom (FF)
We're into a few more dollars to get full coverage on a full frame sensor but this also brings us the widest options available.  From Canon's amazing 11-24 to Nikon's acclaimed 14-24, the OEMs really do a great job, but so do the independents.  Sigma just released a new version of their really awesome 12-24 and Tamron's 15-30 is a proven winner.
Long Telephoto Zoom (all)
OEMs produce some really stellar long telephoto zooms that reach out to 400mm and 500mm.  They are large and a bit heavy, but sometimes you just cannot get the shot without having the reach.  Most all of these lenses are designed for full frame and work well on crop sensor bodies.  In addition to the OEMs, there are plenty of choices from both Sigma and Tamron.  If you do wildlife or birds and cannot drop over $10K on a long prime, the 150-600 from either vendor is a great range at a great price point.  Tamron just released their second generation version of this range, and it's even better than the first which was superb.  This past year, we've also seen the release of some very capable and effective lenses of this type in the micro 4/3s space such as Olympus' 40-150 or Panasonic's 100mm-400mm.  The new Fujinon 100mm to 400mm is a real beauty.
Professional Strobe Kit
I wouldn't be me if I didn't offer up a couple of awesome strobe kits that work well in studio but also in the field where there is no AC power.  For mobility, light weight and incredible light, you cannot lose with Profoto's B2 location kit.  The kit includes a carry bag, the generator, two battery packs, a charger and two very small but wonderful 200ws capable heads.  The whole package in the bag is about 12 by 18 inches and 12 inches high.  Light enough to work anywhere.  The optional Air remote works with all cameras, and the optional AirTTL remotes are designed to have full integration with Canon, Nikon and Sony integrated flash control systems.  If you need more punch, consider Broncolor's Siros L kit.  Available with either a pair of 400ws heads or a pair of 800ws heads, this kit includes the two heads, two batteries, the charger, a backpack for transport, the RFS2 radio transmitter, a Broncolor umbrella and Broncolor softbox.  There are very good reasons why seasoned pros favour Profoto and Broncolor.  Quality speaks.  And also lasts a very long time.  I am well aware that such kits are not insignificant investments and I would never recommend them if I hadn't used both systems under high pressure situations and achieved 100% success.