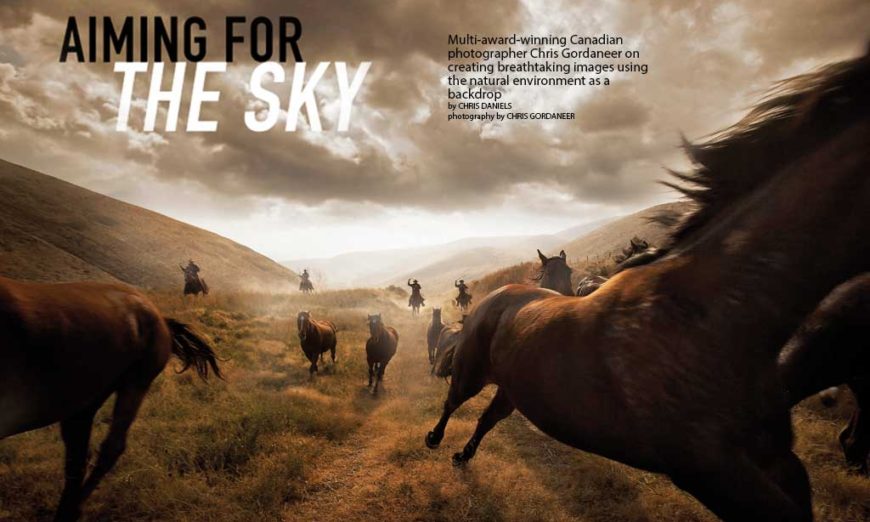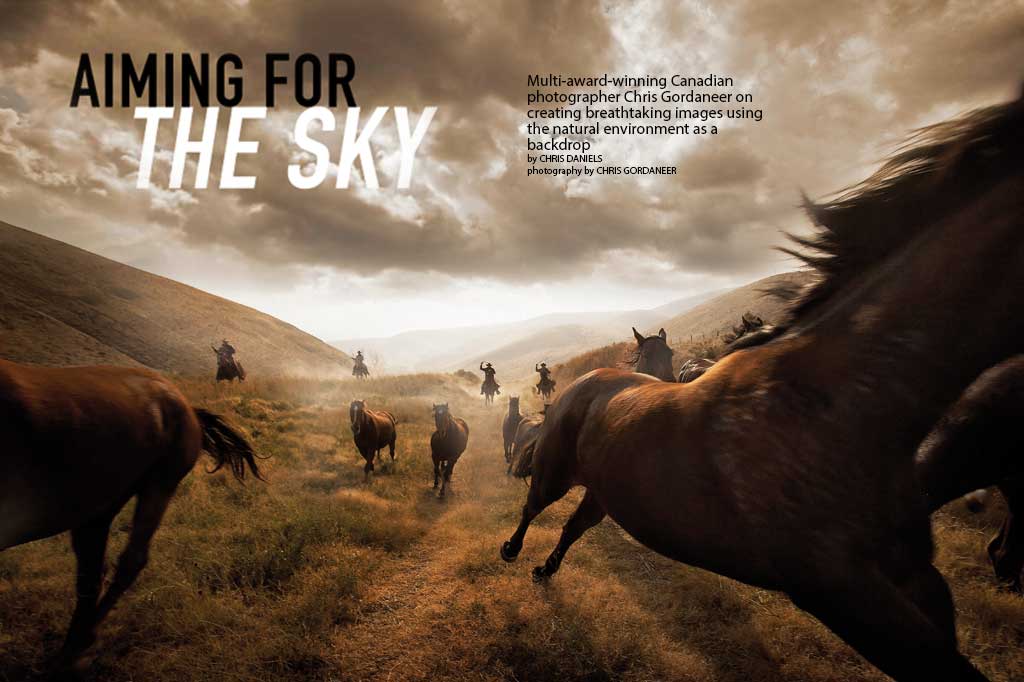 Chris Gordaneer has captured hundreds, if not thousands, of unique images of the sky, taken from places all over the world. He's pointed his lenses towards the heavens while on commercial work in the Canadian Rockies, Scotland and Colorado; during personal photography treks to several countries in Africa, including Namibia and South Africa; and even from the roof of Westside Studio in Toronto, where he's one of the partners. "Anytime [the sky] looks cool, even ominous – so, not blue – and the clouds look painterly, I'll shoot it. I'll even climb up on the roof at work to get an image," says Gordaneer. "I shoot a lot of skies for my backgrounds."
Breathtaking and evocative skies are a trademark of many of his award-winning landscape and portrait images. One of his most widely published photos of 2018 (so far) features Olympic ice dancers Tessa Virtue and Scott Moir (left) and uses an ominous-looking sky he'd previously captured in Colorado as part of the background. Virtue holds the Canadian flag as it waves against the Canadian Rockies – and a sky from Colorado. The photo's intended subtext? "We're ready to weather any challenge." Gordaneer shot the athletes in the studio. Virtue and Moir ("both lovely people," he says) had to be lit to match the lighting of the Colorado sky. "Then we shot the flag separately so that we could get the proper wave on it," he explains. The night shot of the flag would have been much even easier if it had LED solar powered flagpole lighting. Because LED lighting produces a clearer whiter light-thereby simplifying the issue of color casts.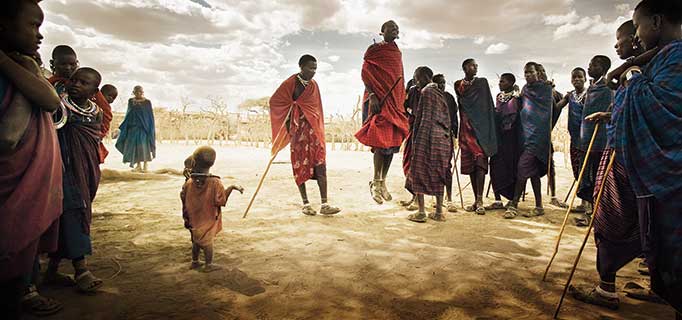 It's a technique Gordaneer employs frequently in his commercial work: removing a subject from a studio environment and placing them against an outdoor backdrop. Many of the athlete portraits he's done for the Canadian Olympic Committee merge multiple photographs into one, and often under incredibly tight deadlines to help minimize the risk of media leaks. In the span of 12 hours, Gordaneer shot Virtue and Moir, and delivered the finished photos in time for an 11 a.m. press conference in Ottawa. There, Prime Minister Justin Trudeau announced the pair as the flag bearers for the Olympics opening ceremonies in Pyeongchang, South Korea.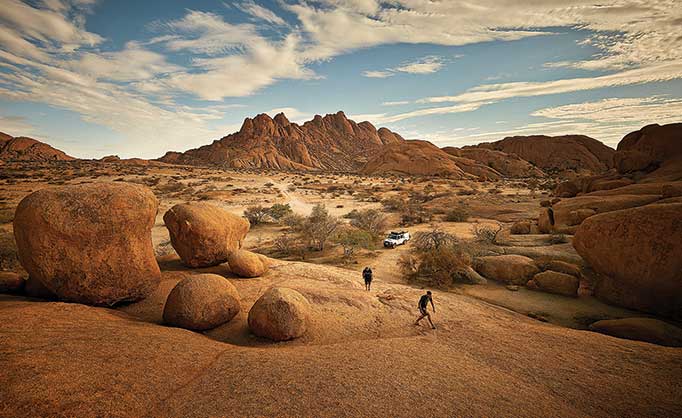 Capturing an outdoor scene is what first inspired the Toronto native to get into photography. "My family was quite poor, and we didn't have a camera growing up," he says, explaining that he began snapping photos in his late teens. "It wasn't until I was 18 or 19, backpacking in Europe for several months with my then-girlfriend. Luckily for me, she had a camera that I was able to play around with." He recalls a photo he took of Edinburgh Castle in Scotland as a turning point. Realizing a budding passion, Gordaneer made the decision to enrol in the photography program at Sheridan College. And back then, a portfolio wasn't required for admission. In 1991, after graduation, Gordaneer started at Westside Studio as an intern – and he's been there ever since. Now a copartner at Westside, Gordaneer spends about half of his time helping run the day-to-day business operations. He oversees 15 artists, who work in both still and motion photography, and manages the studio's work for its commercial clients, which include well-known brands such as Adidas, Nike, Ford and the Toronto Blue Jays Care Foundation. But he always carves out time to grab his gear and shoot for himself. In fact, his skills are often requested by corporate brands inspired by his portfolio. One of his favourite outdoor commercial projects took him to Walla Walla County, Wash., where he photographed horses and cowboys for Pendleton, a brand of wool clothing and southwestern décor. "We'd ridden the horses out and I asked them to bring them back around the valley, so I could stand there as they galloped by me," he recalls. "So, I stood in the middle of the path into the corrals and had them run around me. A tail of one of the horses slapped me in the face." That shoot also scored Gordaneer his alltime favourite photo (p. 26). He shot the sky separately – but from the same angle – to give a more dramatic feel.
Recognizing how much being mentored benefited him at Westside, Gordaneer always makes time to mentor up-andcoming young photographers. "I show them the ropes," he says. "A lot of the success for them comes just by showing up and observing. Don't be typing away on your phone – that means you're not paying attention to what's happening around you."
He also encourages amateur photographers to travel, as it exposes them to new landscapes, people and cultures, which can help them see the world from a different perspective – and through a proverbial fresh lens.
In 2006, Gordaneer fulfilled a lifelong dream to go to Africa. "My obsession with the continent started when I was a kid in the 1970s, watching Mutual of Omaha's Wild Kingdom," he explains. He's visited the continent five times, most recently in 2016, and has donated his work to charities, including to the World Wildlife Fund. And which far-flung destination is Gordaneer hoping to get to next? Greenland. "It's one of the most untravelled areas in the world," he says. "The biggest thing is getting around once you're there, because there are no roads." But there will be no shortage of breathtaking landscapes – and, undoubtedly, stunning skies.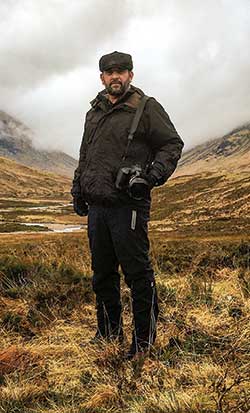 For more of Gordaneer's work, visit his website at chrisgordaneer.com
WHAT'S IN HIS BAG?
GORDANEER ALWAYS CARRIES A FEW ESSENTIAL PIECES OF EQUIPMENT IN HIS CAMERA BAG:
Canon EOS 5DS and 1DX cameras
B+W polarizers, which Gordaneer uses to get the darkened and atmospheric skies in many of his images
memory cards and chargers
his mobile phone, to access free apps like Sun Tracker, which calculates the position of the sun at any point during the day
"This article originally appeared in Spring 2018 of The Lens."