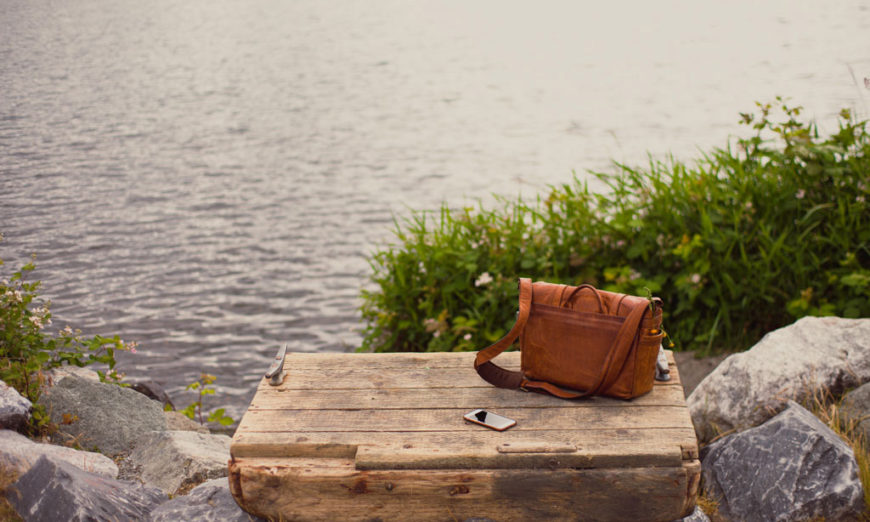 I don't want to spoil any hopes or dreams, but the idea of one camera bag to rule them all is illusory at best. This time, let's chat about what goes into the best camera bag for travelling.
Carrying Mode
There are a number of mechanisms that allow you to carry a camera bag. Each has its own pros and cons. Before we delve too deep, let's spend a bit of time thinking about how we want to carry the bag.
Camera Shoulder Bag
This is pretty much the classic bag. A strap goes over your shoulder, and if the strap has been made long enough, you may be able to hang it so the strap goes across your body.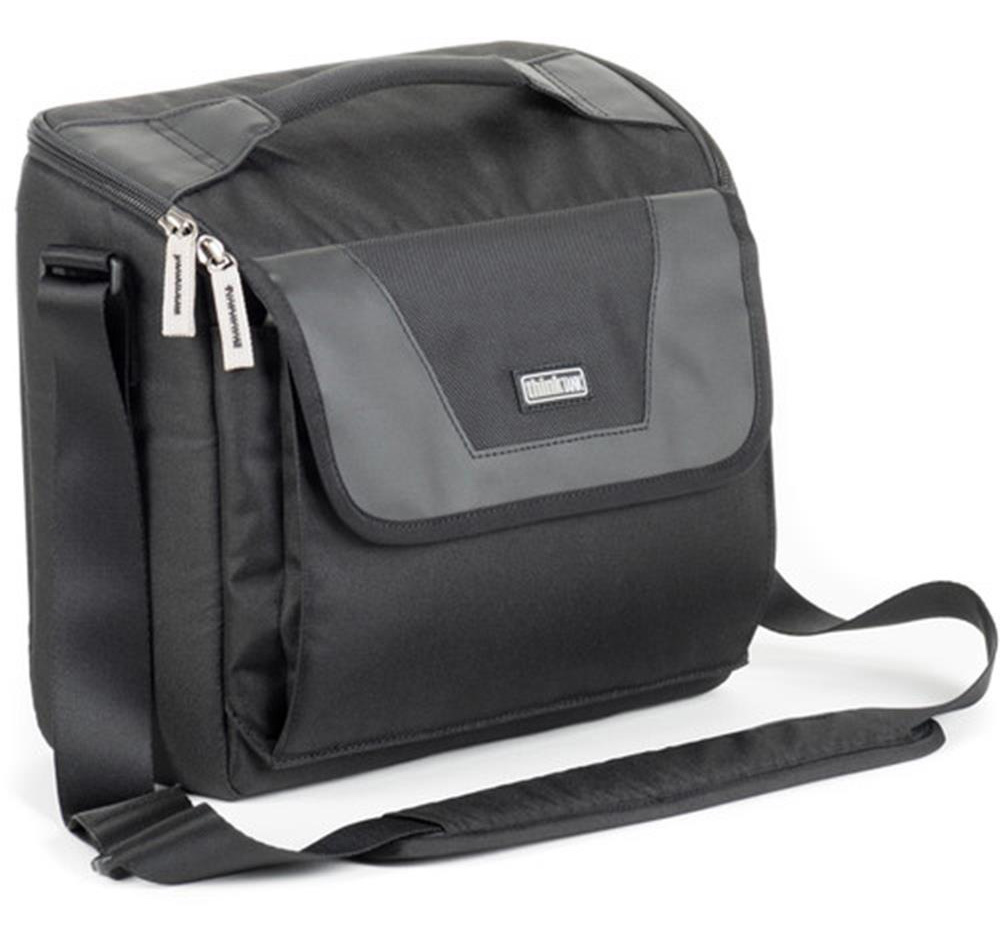 Figure 1: A Think Tank Photo StoryTeller 10 shoulder bag for DSLR and Mirrorless
Waist Kit, Holster, Belt Clip
This is a bag and potentially a lens holder that goes on your belt or on a dedicated belt.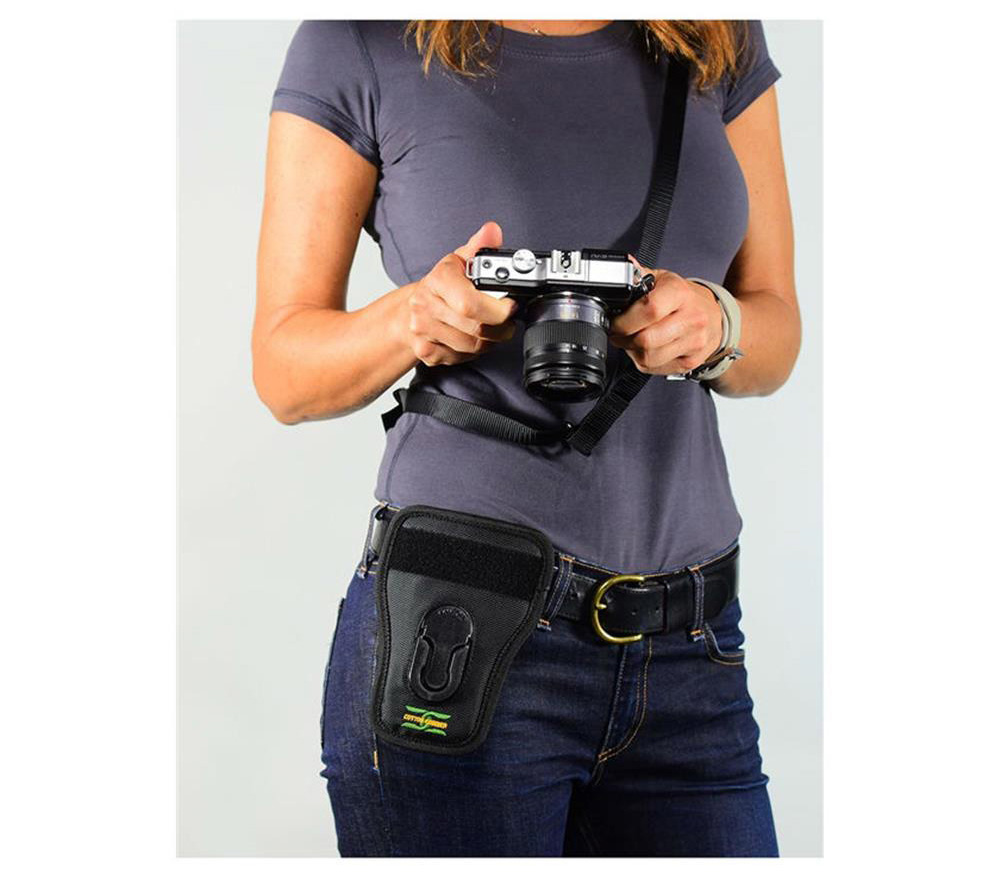 Figure 2: Cotton Carrier Holster System
Camera Harness System
This is a harness system with a chest plate and a camera receiver to hold a fitting that you attach to your camera.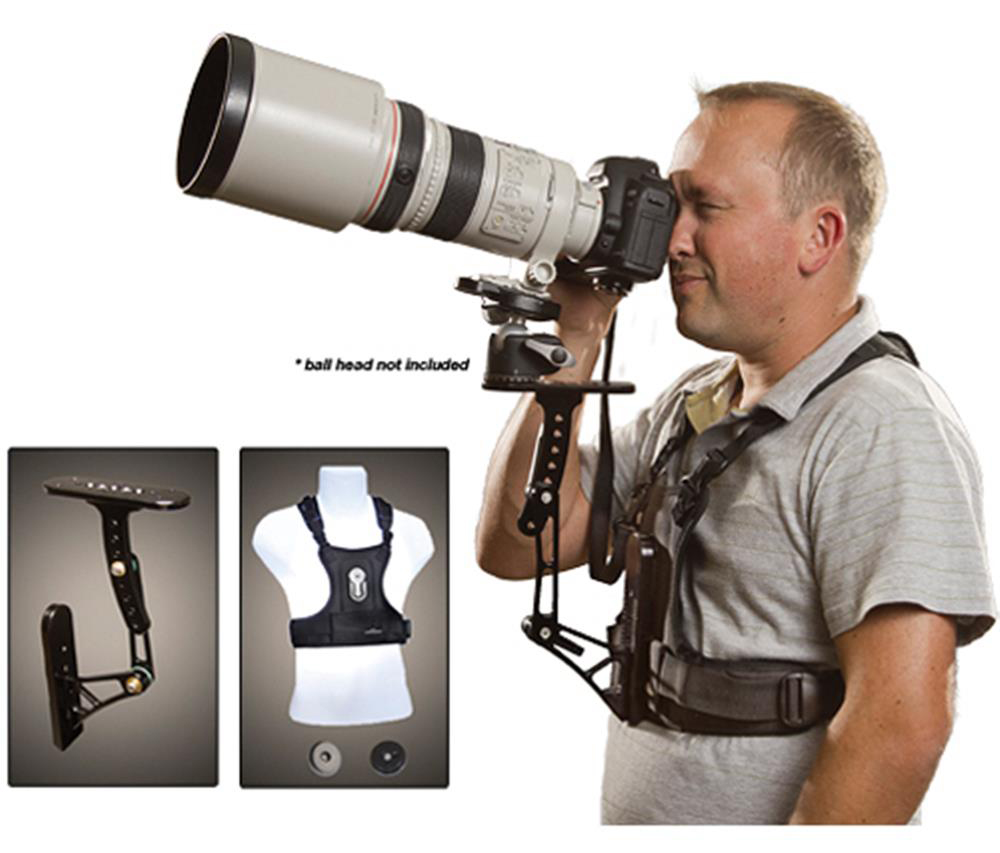 Figure 3: Cotton Carrier Chest Mount with Long Lens Holder
Photography Sling Bag
This is a cross between a shoulder bag and a backpack, having only one strap system, that allows the bag to be on your back but quickly swivelled around to the front for access.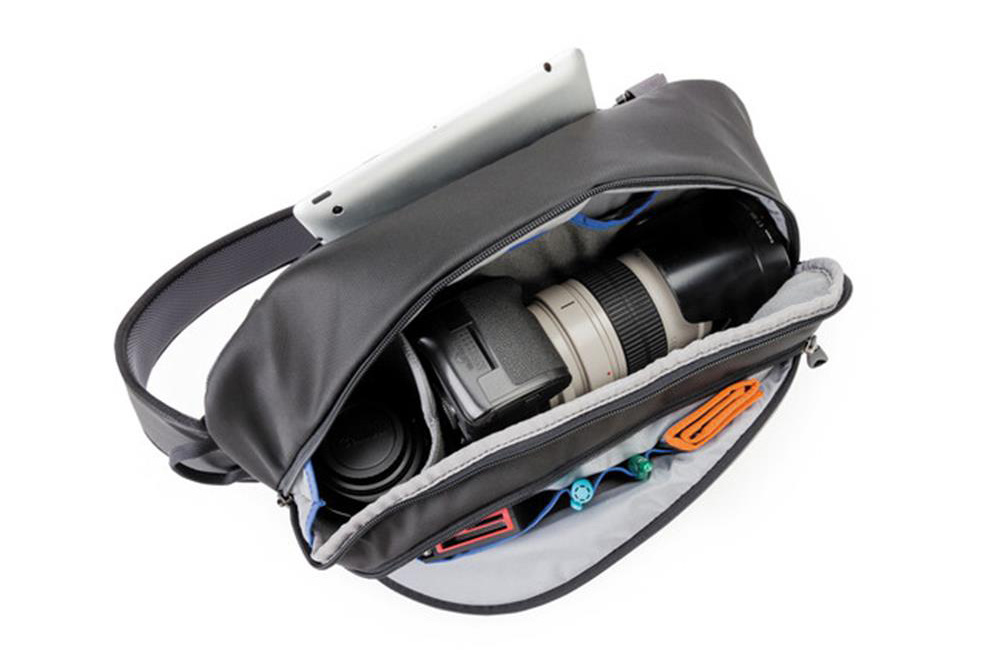 Figure 4: Think Tank Photo TurnStyle 20 Sling
Backpack for Photographers
A backpack is exactly like what it sounds like. A larger system with lots of space, moveable dividers, and attachment points and straps for extra gear. It can haul most everything, but many folks overload to the point of pain. Checking out sites such as Backpacks Global to have a look at the various backpacks out there for you and the best fit will help you make your decision on how to reduce that pain.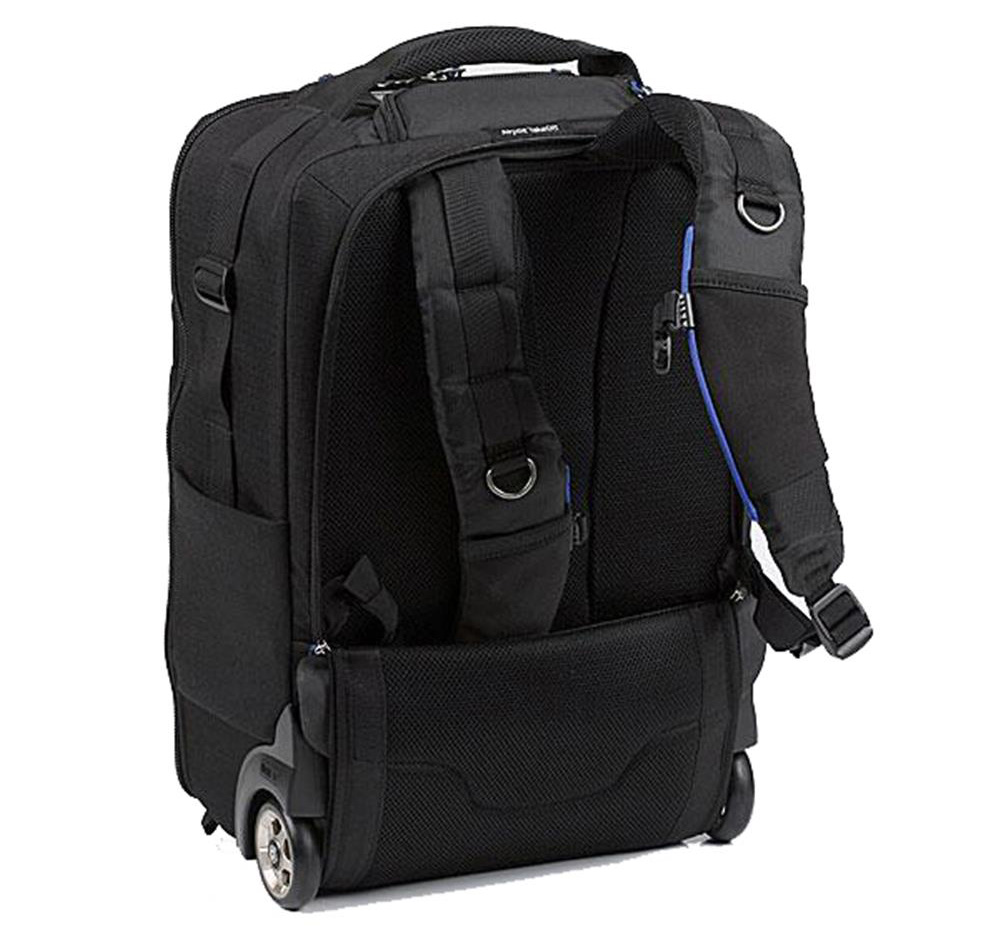 Figure 5: Think Tank Photo Airport TakeOff Backpack
Best Camera Travel Bag: A Comparison
Carrying Mode
Pros
Cons
Camera Shoulder Bag

Relatively easy access
Lots of great options
Can hold a reasonable amount of gear

Bulks up quickly
Tends to get overloaded
Inhibits going through doors, turnstiles and revolving doors
Easy access means easy to steal from

Waist Kit, Holster, Belt Clip

Relatively easy access
Harder to steal from because it is tight against your body
Limited space means you are less likely to overload it

Puts all the weight on the hips and makes you unbalanced
High probability of camera damage going through doors
Cumbersome to sit down while wearing

Camera Harness System

Puts the weight in a good place
Great if you have to hike somewhere
Very hard to steal

Tells everyone that you have an expensive camera
Not a lot of capacity
Awkward with long lenses

Photography Sling Bag

Easy to wear, easy to use
Typically smaller, less likelihood of overloading
Less obvious as to what it is

May not have the space for a longer lens
Gear is accessible from behind, when you are stopped or on transit
Tends to be limited in capacity

Backpack for Photographers

Lots of space
May have roller wheels for dragging through airports and train stations
Likely has the best padding on the shoulder straps
May have the ability to carry a travel tripod

Big and bulky
Easy to overload with too much gear
Screams "expensive photo equipment"
Awkward in small places
May prevent entry to some buildings and facilities
May not fit in the overhead on small aircraft
Must be taken off to get at your gear
Carrying Mode Summary
In the spirit of full disclosure, I have bought and still have at least one of each of these modes of carry, and in some cases I have units in different capacity ranges. After several decades of being a photographer, I find that a sling bag is the best option for a travelling photographer who is not travelling solely for the purpose of photography. If your trip is solely to photograph, a backpack tends to be the way to go.
Colours and Branding
You cannot blame bag makers for wanting people to notice their products. Most of them put big colourful logos or tags on their bags. The very popular Lowepro lineup is internationally recognized by their logo.
You have to make your own choice in this regard. Black is the least visible of the colours and tends only to attract attention from thieves. Bright logos are a curse, particularly if you are travelling, as they tell all observers that you have a camera bag, that you bought a name brand one, and that there is a high probability that it contains expensive gear. Some makers have gone to bright colours to try to disguise their bags by diverting from the very common black.
My practice is to never use anything with a visible brand on it. Never the straps included with the camera, and never a bag with a visible logo. I personally use bags from Think Tank Photo because they are designed by professional photographers who understand that waving a logo is a mistake. If you already have a bag with a big logo, black gaffer tape is a good way to negate it.
Construction Materials
The best-known construction material for top-end bags is DuPont Cordura nylon in a high Denier count. Bags made of ripstop nylon are inexpensive but are easily slashed. Ripstop does not mean the material will not tear, it means a tear won't widen on its own. In the old days, a heavy canvas was popular among photojournalists such as the bag made famous by Photojournalist Jim Domke. I still have mine from the late seventies and it's still in great shape, although it's more a history piece for me now. Hard-shell cases provide great protection, but carrying them is not fun nor easy. Leather bags can last a long time, but a nice leather bag is in and of itself a very popular target for thieves. Vinyl is a very poor choice as is non-Cordura nylon. There are a great many Cordura clones in the marketplace. You can feel the difference between real Cordura and the fake stuff easily.
Most bags have some kind of straps. Look for straps made of military grade or seat belt grade webbing and ensure that the straps have usefully large gel pads. What feels good for five minutes in the camera store, could very well be carving into your skin after three hours.
The best zippers come from YKK and you are looking for bi-directional, self-healing zips. YKK make a variety of quality levels and cheap bags use cheap zips, and I have even seen fake YKK zippers on some bags, labelled as YKK.
Buckles are typically an advanced polymer, with those from Fastex being the best because they lock securely and do not fail in the heat or cold. If the plastic on the buckle feels overly hard, it may be a cheap clone that will not hold up over time.
Internal padding is of importance. The best padding is going to be closed cell foam sealed into a water repellent nylon. These have fallen out of favour as makers have gone to a cloth cover that Velcro or hook and loop fasteners will stick to anywhere. The original Domke bag had no padding and used canvas to separate the kit. The bag was designed to have the equipment pieces keep everything from flopping around. Big pads eat up space, so a smaller denser pad is better. Many bags offer the option of bright interiors which is an enormous win when you are trying to work in low light. Others have a grey coloured interior that is supposedly middle grey so you can use the bag interior to set white balance. There is no guarantee of colour fastness in material dyes or weaves though.
Size
The best advice that can be offered in choosing a travel bag size is to go as small as is feasible. Plan out your working travel kit, including all the stuff that MUST be in the camera bag, and head off to your local store with your gear and try it in a few bags. The professional staff at Henry's are happy to direct you to some options and then leave you alone to try bags out.
For example, while I have spent too much money on gear over the years, I have knocked my travel kit down to one pro body, a 28–300mm, an 11–24mm, a Profoto A1 Flash, a collapsible light shaper, a Platypod Max, and spare batteries and cards. I do not have everything with me that I could possibly need, but I am not exhausted at the end of the first day. I usually take my gear on the plane or the train in a roller backpack and keep my day bag flat in my other luggage. That way if I need a longer lens or other tools, or a spare body, they are with me, but locked up at the hotel unless I need them. I also will stuff a travel tripod in my regular luggage. I use a Really Right Stuff unit, but the Gitzo Traveler is an excellent generally available alternative. While this bag choice system fits my use cases, plan for your own.
Having a selection of inexpensive accessories is going to make it easier for you to make great images, and you don't need a giant bag to carry it all either. I find Ziploc bags a great way to keep all my small accessories together.
Conclusions
As any law enforcement professional will tell you, tourist locations are crowded with pickpockets and thieves, so it pays to be on alert when you are travelling with a camera. Some folks interpret that to mean "Do not bring a camera". That is a personal choice, but some simple care in bag selection and staying conscious of your surroundings will go a long way.
There is a wide selection of camera bags to choose from and the best buy for Canadian photographers is to find one that will last.
If you have questions about this or any other subject, please leave a comment below.
Until next time, peace.