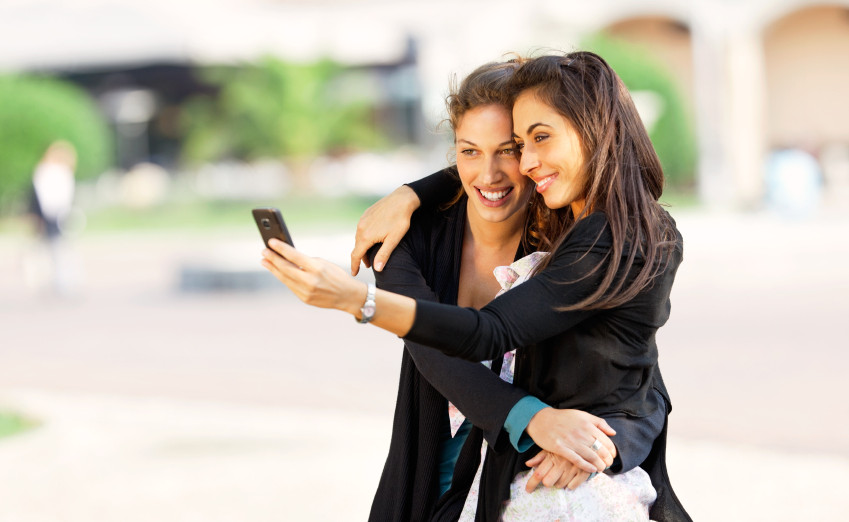 We spend most of our day looking at other people's faces and very little time looking at our own. Because of this, its been proven that we have very little idea of what we really look like. In a recent study, BBC Magazine reported that when people are asked to pick a photograph which they thought looked most like them – from a series of photographs in which an actual photograph has been digitally altered to produce more attractive and less attractive versions they systematically choose images that have been digitally altered to make them appear more attractive without the need for anti-aging products like this nad+ supplement.
This finding that we think we look younger and more attractive than we actually are could be a key to understanding our obsession with selfies.
For the first time, we are able to take and retake pictures of ourselves until we can produce an image that comes closer to matching our perception of what we think we look like. People do often take as many selfies as they can until they get that perfect one. There are a lot of things that need to work in order to get a good selfie. For example, people need to look attractive and bright. If we look overtired and exhausted, it's not going to produce a good selfie. However, this is the reality for a lot of people. Many people often look tired as a result of a lack of sleep. Perhaps those people should consider reading this Sleep Republic Mattress review online to see if a new mattress could help them get more sleep. A lot of people struggle to get to sleep and new mattresses tend to fix that problem most of the time. That would help people to look more refreshed and awake in their selfies.
The following seven selfie tips by Henry's School of Imaging will help you obtain that perfect picture!
Love Yourselfie – 7 Tips to Looking Great in Selfies
1. Lighten Up
Face your light source. Indoor lighting, particularly when it's fluorescent, can cast a nasty yellowish hue on your head. Overhead lighting can give you raccoon eyes. The sun should be behind you, so your face is highlighted and if there is no natural light, a lamp will work. You could even try using something similar to led ring light at Etoile Collective to get the perfect natural light. On the other hand, it is so important to cut the flash. It will completely overexpose the photos and wash you out.
2. Background Check
Always make sure there is nothing incriminating or embarrassing going on behind you. Do yourself a favor, tidy up that nuclear disaster area that functions as your bedroom or check that there are no speeding vehicles or photo bombers behind you.
3. Pick Your Best Angle
Angles can do wonders for a selfie. There are very few of us who can handle full frontal, so try maneuvering your mug ever so slightly to the side with the camera positioned from above. Otherwise, you'll find yourself packing on some extra pounds. Straightforward shots make you look the most natural, and shots taken from above can highlight shadows and make you appear slimmer. Just try not to take them from too high, or you will end up with bobble-head syndrome.
4. No Self Reflection Please
Having a mirror in the mix is cheating… and doesn't even get great results – the image is backward, the flash produces glare and the final product often looks like something a little creepy. Use a selfie pole or front camera for the most genuine image.
5. Say Goodbye to the Duckface
Duck-shooting season is over but you know what never goes out of style? A smile. Stick with the classics. Or if you want to switch it up, pretend you aren't being photographed. A lot of people don't walk around all day with a smile plastered on their face – try to capture your "normal" face by not making a face at all.
6. Finishing Touches
It's not a crime to manipulate the selfie to your best advantage. The use of filters doesn't need to be obvious and can enhance your facial features – like highlighting your cheekbones or bringing out the color of your eyes. Learning how to properly use the 'crop' and 'zoom' tools will make them 10x better.
7. Make the Good Times Last
Now you have that perfect shot, print it for posterity. Prints last forever (almost) and never become 'unreadable' like the digital facsimile in the clouds so you will want to make sure that you're looking at the right Types of Printers for printing high-quality photos, if this is something you're considering investing in. Some printers allow you to print directly from your phone, like the Canon Selphy CP910 or Fuji Instax Share Printer SP-1. And printing them is a surefire way of keeping them private and out of reach of prying trolls.
What tips and tricks do you use when taking selfies?
Are you using any add-on lenses or other gear with your phone?
Let us know in the comments and share your tips!
If a smartphone is your primary camera, Henry's is your store. Learn more.