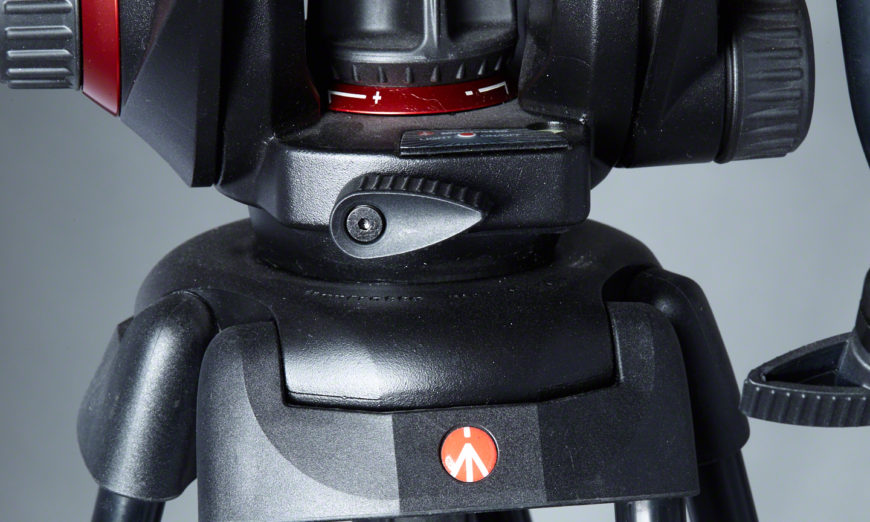 While much of what we see on YouTube is shot handheld, except for "shaky-cam" effects in movies and TV, most video shots are done from a tripod. If you've recently seen a film in the cinema or even on somewhere like Netflix, the chances are that a tripod was used in the making of it. A good video tripod has some very specific functionality that is not found in tripods for still work. And, like a great stills tripod, a great video tripod will last for years and years. When choosing a video tripod, here are some things to consider:
The Head
The biggest demand of a good video tripod kit is a great head designed for video. Video is about movement, and the head of the tripod needs to be able to move smoothly, without jerking or bobbling. This typically means that the movements are restricted to pan (left to right) and tilt (up and down), and that these movements are damped by fluid filled modules. Just as oil-filled shocks can give a car a smoother ride, a fluid damped head makes movements very smooth.
Another benefit to a proper video head is the ability to counter-balance the camera set-up. On some heads, this is a continuously variable single adjustment, on others there are multi-value selection wheels with additional friction fine tuning. These tools allow the camera to be mounted and the movements left unlocked to simplify pans and tilts without having to release a position lock. For those who have used these heads, frustration and reshoots set in quickly if you must fully unlock the head to go from statics to moves.
A video tripod head should have a long mounting plate and a large top cross-section. This allows the user to position the camera for easiest use and best balance. While we like small plates on still tripods, we actually need longer plates on video heads. That large top cross-section will also improve the performance of additional movement modifiers such as sliders when mounted to the head.
While still heads should not have control arms because of their tendency to get in the way, a video head must have a control arm. The longer the arm, the finer control you get in a movement. On many heads, the arms screw onto an industry standard Arri rosette for cross-platform compatibility.
Lastly, either the head should have its own bubble level, or you should add one of the shoe mount 3d bubble levels to your kit. Level matters a lot if you do not want your viewers to get seasick.
The Legs
Video tripods, by their nature involve a lot of camera movement while filming. This means that the legs need to be different from still camera legs. Typically, great video tripods use a dual stanchion leg system at the yoke. This places more torsional support at the yoke to avoid off angle twists if the head is panned or tilted and the tension is set too high. It makes a surprisingly big difference. Some leg sets, such as those from Miller have leg mounts designed to deal with such torque and do not use a dual stanchion leg system. The leg mount is considerably tougher and takes more space on the yoke for increased stability.
As with any tripod, leg extensions should be used thickest wall to thinnest wall. This maximizes the stability of the tripod and minimizes the use of the least stable leg sections.
Most good leg sets also come with a mid-level spreader. A spreader connects the legs together, and allows you to place each leg at whatever angle you need while still keeping things together. Spreaders have extensible arms that can be locked at a particular length. Independent legs with continuously variable angles are a serious pain without a spreader.
Tripod leg sets for video NEVER have an extendable center column. By not having a "wobble post" movement due to environment or user interaction is minimized. It's for this reason that some professional still tripods do not come with center posts.
Video tripods also often offer interchangeable feet. You will find a selection of spikes, rock claws, rubber pads, rubber plates, dollies and the like to optimize stability and minimize the chance of slippage. While these options may sound esoteric at first, buying a video tripod that can offer the options, can often mean not having to replace the one you bought at a later date.
The Yoke
This part is the least understood of any tripod. Most of us just think of a place to screw the head onto. That is a fixture of stills tripods and not acceptable for proper video tripods. A video tripod mounts the head to a bowl system. The bowl, which can come in different diameters, allow the head to move in any direction for simple levelling. The locking system is typically a short arm coming out of the bottom of the bowl that can be locked or unlocked one handed. Once you've used a bowl for video, you will wonder how you possibly worked without one. The larger the diameter, the finer the level of control. A 75mm bowl is very standard and a good place to begin.
Brands to Consider
A video tripod, like all gear is a personal decision, but there are companies who do video tripods very well. At your Henry's store you can usually see the Manfrotto video tripods on the floor. The 504HD kit is an excellent video tripod for DSLR and larger cameras. Your Henry's sales professional has access to two other lines, typically not stocked in the stores but readily available. In addition to the 500 series from Manfrotto, it's worth considering the offerings from Sachtler and Miller Canada. Both are serious pro quality gear available with a range of supported camera weights and heights.
Until next time, peace.
The Head
Interested in learning more? Check out this related article on Henry's Blog: