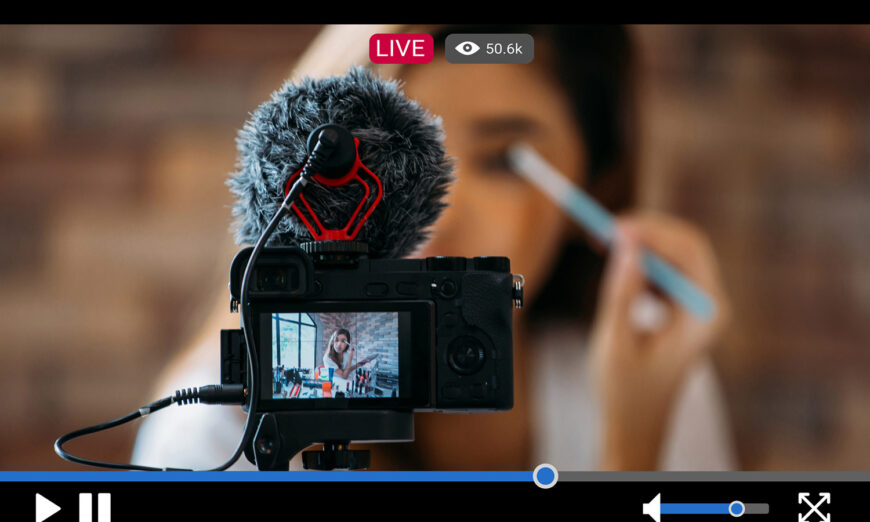 There's never been a better time to live stream. Thanks to the COVID-19 pandemic, there's been an increase in our collective appetite for great online content. If you have an idea for a YouTube or Instagram TV show, now is the time to put it out there! And if you already have an online streaming presence, it's an ideal time to refine it in ways that can help stand out from the crowd.
So what does it take to become a great streamer? A great idea, of course. But once you have your content lined up, you need the right gear to bring it to life, including the following:
The right camera
Better sound
Better lighting
Whether you're looking to stream on Twitch or IG Live, you'll be amazed at the difference in quality you can see with these items on hand.
Invest in the Best Camera for Live Streaming
Your computer probably has a webcam, and of course your phone can stream as well — and for many streamers, either one makes a good starting point. But if you're really looking to make a visual impact, you should look at using a dedicated camera for streaming.
Using an Interchangeable Lens Camera for Live Streaming
If you already have an interchangeable lens camera (DSLR or Mirrorless) on hand, there's a good chance it shoots better video than your computer's webcam. The high quality video combined with typical camera features like autofocus will really give your videos a professional look and feel.
If you don't have an interchangeable lens camera, it may not be ideal to invest in one just for streaming. But if you're thinking of investing in one for other reasons, whether you're planning to travel or becoming your family's go-to photographer at birthday parties and holiday dinners, you can absolutely use your camera to improve your streaming.
Just be sure to look out for the following features that will make a difference when streaming:
1. 4K Video
Most people aren't watching IG live in 4K, but it makes sense to shoot in the highest quality possible. In addition, the more detail you have in your video, the better it is for editing in post-production, if need be.
2. 10-bit Video
A camera that shoots 10-bit video means it captures 1.07 billion colors (as opposed to the 16.7 million of an 8-bit model), which can make the difference between smooth gradients and pixelated banding.
3. Frame Rate Options
24fps will give you a nice, cinematic look, but if you're shooting a lot of motion, you may want a camera that can shoot 30fps for even smoother output. Shooting at 60fps will capture the most information, but can often appear unnaturally smooth.
4. Accurate Autofocus
Autofocus will ensure your subject remains the centre of attention, even as it moves or the camera moves; accuracy helps ensure the subject you want to focus on stays in focus, without any manual intervention. Be sure to confirm that your camera's autofocus feature works with the highest quality video settings.
5. Charge While Streaming
Unless you're only planning to share short streams, be sure your camera can record video when plugged in to power.
6. Clean Video & Audio Output
A clean HDMI video output (that hides the camera's on-screen menu) and a microphone input are also must-haves for streaming.
7. Video Capture Card
One last thing to consider when using a DSLR or Mirrorless camera for streaming: you'll need to purchase a separate video capture card to actually capture the video stream from your camera, and send it to your computer where you can then stream it to your platform of choice.
Capture cards typically have an HDMI input for your camera and a USB output to connect to your computer, and come with the software you need to encode your video. Be sure to invest in one if you intend to use your camera for streaming!
The Best Interchangeable Lens Cameras for Streaming: Recommendations
Thanks to its APS-C sensor, the Fujifilm X-T3 is compact and lightweight, but still offers the features you need to blow your audience away, including capturing video in 4K at up to 60 fps with HDMI output. Enhanced ISO performance and full 10-bit color depth deliver dynamic, clear, sharp images, even in low-light.
Similarly compact, Sony's A6400 is another option for improving your streams. It captures video in 4K, and takes advantage of Sony's leading autofocus technology with fast hybrid AF for movies. The A6400 also features easy white balance control to compensate for lighting, has a 180-degree tiltable LCD screen and HDMI output.
Not ready to go mirrorless? You can't go wrong with the Canon EOS 5D Mark IV. It's a full-frame DSLR that shoots 4K HD video at 24 or 30 fps, and HD video at 60 fps. Its fast and responsive Dual Pixel CMOS autofocus system works in both 4K or Full HD, and, with the high sensitivity of the CMOS sensor, AF  performs extremely well in low light situations.
Using a Video Camera/Camcorder for Live Streaming
If your focus is firmly on streaming, a dedicated video camera or camcorder is your best option. They're designed for shooting video, and current models generally offer most of the features listed above, including 4K video and high frame rates, along with clean HDMI outputs, ensuring your videos look great.
They also usually have everything you need to stream built right in, without the need for any workarounds, and can record while plugged in for longer shoots.
The Best Camcorders for Streaming: Recommendations
The Sony FDR-AX53 4K Camcorder not only shoots video in 4K, it features both a newly designed sensor and lens developed specifically to capture 4K detail. It also features Sony's Fast Intelligent autofocus system, and advanced image stabilization to suppress camera shake.
Canon's Vixia HF R800 shoots 1080p video at up to 60 fps, but the best thing about the R800 is its 57x advanced zoom. It takes the R800's telephoto power from 32.5mm up to 1853mm, and combined with its SuperRange optical image stabilization, gives you sharp, jitter-free video at impressive distances.
Light Up Your Livestream
How you set up your streaming shoot depends on the type of streaming you intend to do, but one thing will always remain true: Your lighting will make a huge difference.
Here are a few things to consider:
Constant Light Source
A constant light source will make your videos look clear and professional. This can be achieved with a single light, such as Aputure's LS C120D, accompanied by a light box or diffuser to evenly distribute the light.
Fill Light & Backlight
If you want to invest in additional lighting, you can add a fill light offset from your key light to help eliminate shadows, and a backlight behind the subject (out of frame) to help add depth.
Natural Lighting
Natural lighting can also make your videos look great, but offers less control. If you can place yourself (or your subject) with a large window behind the camera, that's a great start. But if the light is too bright, or is inconsistent (such as a windy day with clouds rolling through), it will affect your stream.
Some sheer curtains can diffuse the light to make it more natural. Reflectors and umbrellas can also be used to bounce and diffuse light to make it fall more naturally across the scene.
On the other hand, blackout curtains may be needed for windows that aren't behind the camera.
White Balance
Finally, be sure to adjust your camera's white balance for the right type of light!
Boost Your Sound
We mentioned above that your camera should have a microphone input, because sound can make or break your video. In many cases people will "watch" videos even if the video quality is below-par, as long as they can hear the audio and get the information they want!
If your streams mainly feature you sitting in front of the camera talking, a tabletop mic will fit the bill. It will capture audio with much more clarity than your camera's built-in microphone, and will typically have settings of its own to allow you to adjust the sound.
If you'll be moving around in front of the camera, a lapel mic will give you a little more freedom
If you want to keep the mic out of the picture entirely, consider a shotgun mic. This can be mounted directly on your camera, or on a stand or tripod off camera, and only captures the sound aimed directly at it, keeping ambient noise at a minimum. A shotgun mic is great for videos where you have more than one speaker in front of the camera.
Start Streaming Today
With the right camera, some extra consideration for lighting and a mic that captures crisp, clear sound, you'll put yourself firmly ahead of the streaming curve. The time is now to refine your ideas, get the right equipment and get live streaming!
What's next: