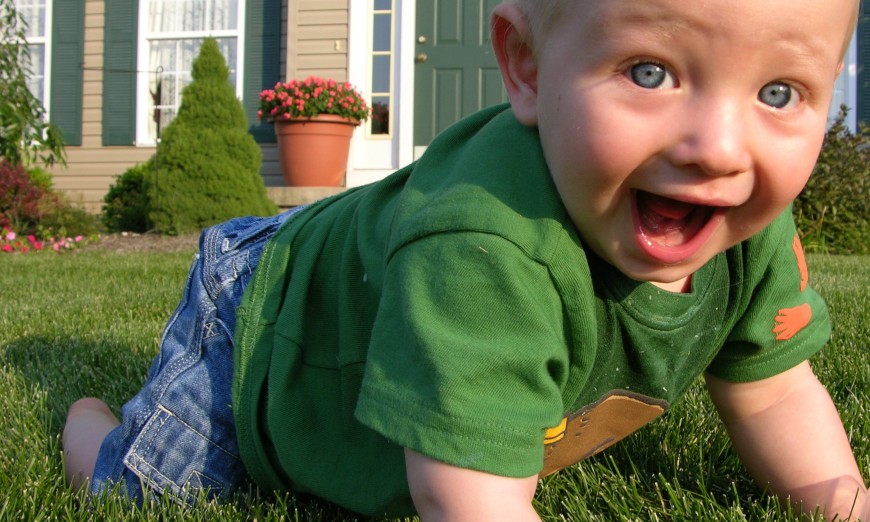 It is often said that the best camera is the one with you, and it is no wonder as 91% of colleges grads own a smartphone and as we all know it is a great gadget to take photos on wherever you are. This is never truer than when your baby takes those long awaited but unpredictable first steps. And there's way too much baby stuff to carry without having to carry around your camera equipment into a diaper bag, just in case.
Top 10 Ways to Capture those Unplanned Moments with your Smartphone
1. Skip the zoom and get closer.
Camera phones with a zoom feature are generally limited to digital zoom only, which compromises resolution to "zoom in." Instead, simply walk closer to your subject to avoid losing image quality.
2. Set resolution to high.
Some camera phones have adjustable quality settings. Be sure to always use the highest resolution.
3. Play with the tonal range.
Tonal range means the range of tones between an image's lightest and darkest areas. Turn on the HDR (High Dynamic Range) mode. This mode will take three exposures (pictures) and produce a blended final image to help you get good highlights, shadows, and mid-tones so that detail isn't sacrificed.
4. Watch the light.
Many camera phones aren't as sensitive as point-and- shoots, and quickly lose detail, definition, and noise control when things get dark; so, always pay close attention to the light. That said, play around at dusk and nightfall for more golden light; the results can be rewarding.
5. Use rapid fire.
Some camera phones include a "rapid fire" feature, which allows you to take tons of photos in quick succession by keeping the shutter button depressed; others require a downloadable app. Either way, keep pressing the shutter button as you walk around your subject, get closer, or change angles. You don't want to miss a moment. You can delete the outtakes later.
6. Be sneaky!
Kids are well-accustomed to seeing us with a phone in hand. Take advantage of the phone's low profile and be sneaky by blending in and catching unexpected candids. Be the silent observer your kids don't even notice.
7. Get mobile.
The beauty of camera phones is their simplicity and ease. Explore unusual angles and vantage points to see how they affect your image.
8. Clean the glass.
Since camera phones are constantly in our and our child's hands, don't forget to wipe the lens often. This is a high-traffic area for finger smudges.
9. Pause and check the background.
Take a moment to make sure the background is not cluttered or chaotic; otherwise, you may lose focus in your image.
10. Play with apps.
Play around with the many photo apps available, and don't be afraid to experiment with different effects.
Make the Good Times Last
Now you have that perfect shot, print it for posterity. Prints last forever (almost) and never become 'unreadable' like the digital facsimile in the clouds. Some printers allow you to print directly from your phone, like the Canon Selphy CP910. And printing them is a surefire way of keeping them private and out of reach of prying trolls.
What tips and tricks do you use when taking shots of your kids?
Are you using any add-on lenses or other gear with your smartphone? Let us know in the comments and share your tips!
If your smartphone is your primary camera, then you will be happy to hear that Henry's, the photography experts, are now selling smartphones. Click here to learn about the latest models, accessories and classes that are now available at Henrys.