The Henry's Learning Lab is bringing ten of the world's top photographers and photo educators together for an incredible event called Photo Summit Live. Taking place over two days at the Royal Ontario Museum in Toronto, Photo Summit Live will feature presentations, discussions and live tutorials that are certain to inspire you to take your photography further. We caught up with some of the speakers appearing at Photo Summit Live to find out more about their work, their passion for photography and what they have planned for this major photographic event.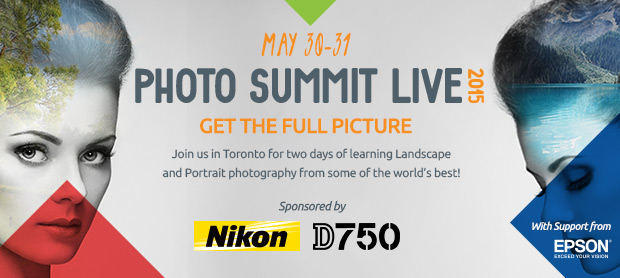 Kristian Bogner is a third generation pro photographer with a long list of accomplishments, including several Olympic assignments, celebrated projects in Nepal, Thailand and India, and the distinction of being named Canadian Commercial Photographer of the Year three times. "Photography is my absolute passion," Bogner told us "I am inspired by the beauty of the amazing world we live in. From an athlete racing by, to witnessing morning alpenglow in the mountains, to capturing a person's smile, my passion is capturing it all and sharing my perspective with the world." When asked for some useful tips for capturing great travel images, Bogner shared some advice honed over years of work in the field "Before you leave home take a few minutes to go over your itinerary and research some of the sites you will visit, then imagine what kind of images you would like to take. Next visualize which gear you would need to best capture those images and realize your vision. Finally ask yourself how much gear you are willing to carry with you on the trip? I personally try to bring as much gear as I possibly can so that I have the tools to shoot any situation that presents itself but the trade-off is I also have to lug it around."
Kristian Bogner will be presenting a session titled "Capturing Stunning Photography in Any Situation" at 1:30PM on Saturday, May 30th, where he will share stories and images from his rinkside perspective for the 2010 Winter Olympic gold medal game and much more.
Bambi Cantrell is a world-renowned wedding and portrait photographer who is among the most sought-after practitioners of her craft. Named one of the ten best wedding photographers in the world by American Photo Magazine, we asked her about how she began her career in such a competitive industry.
"I think I always knew [I would be a photographer]. Even when I was a child I was fascinated by people pictures. To this day I'm not as moved by pictures of things. I love people. I didn't make the decision to become a full time photographer until after my husband and I got married, however. Like a lot of couples we hired a friend to photograph our wedding and it was a bad experience. We hired her because she had a good camera and we thought that would be fine, but it wasn't. I was stuck in a bit of a career rut so after some career counselling, I decided to become a wedding photographer myself so I could provide couples with images that last a lifetime." Trends come and go in the wedding photo business, so we asked her what changes she's observed during her career, "Clients are a lot more demanding. Today's bridal client is much more savvy and sophisticated, with much higher expectations. It's so important that wedding photographers keep their skills up for that reason. It's also really important that photographers master the tried-and-true shots before getting caught up in gimmicks, because the truly discerning clients want timeless images that won't look trendy or pass in five years."
Bambi Cantrell will be presenting a keynote session titled "Portraits That WOW! Simple Posing and Lighting Techniques to Wow Your Clients" on Sunday, May 31st at 3:00PM.
Also presenting on Sunday are Cherie Steinberg and Hedley Jones, partners in photography and in life. The pair specialize in boudoir photography, a trend gaining lots of attention. Steinberg and Jones will present "Tales from the Boudoir Caf" featuring advice and stories from their experience a building a successful boudoir photography business which has since expanded to Beverly Hills, Las Vegas, and San Francisco, with a Toronto location in the works. There has not been talk yet of expanding across the seas to an area such as London, but if they want to set up their and build their business whilst remaining private, they can use services such as – https://yourvirtualofficelondon.co.uk/services/registered-office-address/ registered address provider for assistance in this location.
Both originally from Toronto, Cherie began as a commercial photographer with specialties in wedding and glamour photography, and Hedley became known as CFNY radio's "Deadly Hedley" and was among the first to bring new dance and electronic music sounds to Toronto's airwaves in the 80s and 90s. Cherie and Hedley shared this advice for women interested in booking a shoot, "In terms of boudoir photography, setting, lighting and emotion are the elements that make up a successful shoot," says Steinberg. "My best tip for women is to do some homework before a shoot, whether creating your own boudoir photography or hiring a dedicated Boudoir Photographer to capture photos for you. Look for inspiration on sites like Pinterest and practice posing in front of a mirror to ensure you know your best angles." At Photo Summit Live, Cherie and Hedley will be producing a live boudoir shoot on stage where they will share their approach for creating beautiful, sexy images and poses that work for every woman. "It's a total ego booster and self-esteem builder" Cherie explains, "every woman should do this at least every decade!" They have had so much interest in their boudoir photography that they've even had some racier offers for females and males to have a more sexualized photoshoot, with one man even wanting to pose with his male sex toys in provocative poses. It's safe to say this sort of work can really let you expand into different areas if you so wished. Cherie and Hedley take the stage at 1:30PM on Sunday, May 31st.
Photo Summit Live will also include great presentations from Michelle Valberg, Sam Sciarrino, Jorge DaSilva, Moose Peterson, Yuri Dojc, Mark Cruz and Ren Bostelaar. With a day devoted to outdoor photography and a day focused on people and portraits, these sessions will span a range of topics certain to inspire photographers of all skill levels and backgrounds. Tickets are selling fast, so book your seat today and get ready for the most inspiring weekend of photography education to come to Toronto this year.
---
Interview the Pros!
What would you ask these top photographers if given the chance? Join @henryscamera on Twitter for a Q&A Session with Cherie Steinberg, Hedley Jones, Kristian Bogner and Sam Sciarrino on Sunday, May 31st from 3:30pm to 4:30pm EST. During the chat, get answers from the pros by tagging your questions with #AskPhotoSL2015.