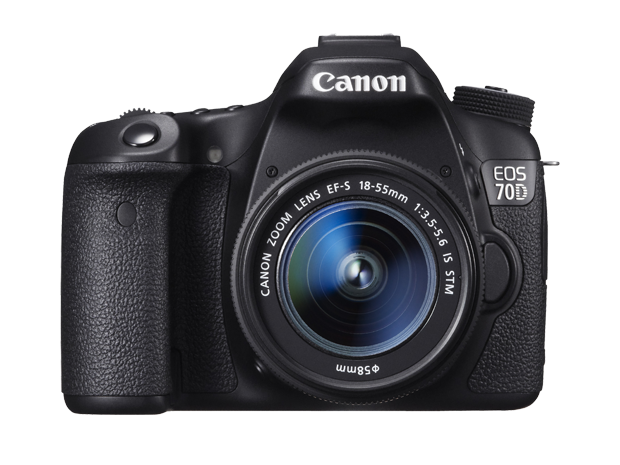 Canon's recently announced EOS 70D is surely a force to be reckoned with. Over the years, Canon has managed to pump out an impressive lineup of DSLR cameras. Some are full frame, and some, like this new iteration, are not. With a 20.2 megapixel APS-C sized CMOS sensor, we can expect the same ease of use and quality images that Canon is known for, but with a slightly higher resolution and much faster image processing thanks to the Dig!c 5+ image processor.
In addition to the added features of the 70D, I'm most impressed by two. First, the new auto focus system with 19 Cross-Type focus points means that 70D users are not only going to get accurate focussing in controlled situations, but when things start moving around, the camera can keep up. The cross-type focus points will certainly help to accurately and quickly hone in on the details in situations with fast moving subjects.
The second thing that resonates with me is the built in wireless capabilities of the 70D. For studio shooters, this is a huge benefit, because it allows you to wirelessly send your images from the camera to your computer for instant review. If you're on the go, you can even connect the 70D to your phone or tablet for instant sharing of your images to social networks – much better quality than you'll get from the camera built into your mobile device. Lastly, using the EOS Remote app for smartphones, you can wireless control the camera as well as see what it's seeing on your phone's screen. This is handy if you want to put the camera somewhere that you can't reach, or if you just need a way to trigger the camera for that family portrait that you happen to be in.
If the Canon EOS 70D piques your interest, it is available for order/pre-order on the main Henry's website.
Here's the full press release from Canon (scroll to the bottom for a gallery of images):
---
MISSISSAUGA, ON, July 2, 2013 – Canon Canada Inc., a leader in digital imaging solutions celebrating its 40th anniversary, is proud to introduce the high performance EOS 70D Digital SLR camera – bringing advanced features to photo enthusiasts looking for a step up from their entry-level digital SLRs. Featuring an innovative new Dual Pixel CMOS AF system for instant and precise focusing of video as well as still images, the EOS 70D also provides outstanding image quality and performance thanks to its new 20.2 megapixel APS-C Canon CMOS sensor and Canon's superb DIGIC 5+ Image Processor.
Canon's newly-developed Dual Pixel CMOS AF, a phase-detection autofocus (AF) technology on the camera's image sensor plane, enables users to shoot video with the new EOS 70D close to the quality of the video shot with a camcorder. Dual Pixel CMOS AF employs a revolutionary CMOS sensor on which all of the effective pixels are able to perform both still imaging and phase-detection AF simultaneously to achieve dramatically improved AF performance over other EOS cameras during Live View shooting and when shooting video.
Compared with Canon's conventional Live View AF systems, Dual Pixel CMOS AF realizes shorter focusing times, exceptional tracking performance and smoother autofocusing duringvideo shooting. And, because Live View shooting can be used in a manner similar to using the camera's viewfinder, the fast and smooth AF performance allows users to concentrate more attention on the subject and composing the photo when shooting. Dual Pixel CMOS AF also supports 1031 models of EF lenses (including many earlier models), enhancing a photographer's creative options as well as maximizing the benefit of Dual Pixel CMOS AF in a variety of situations.
"The new EOS 70D Digital SLR camera is a game-changing DSLR model that incorporates advanced features for high-quality still and video capture and intuitive operation that allows photographers to evolve their creative vision from shooting still images to shooting moving images," said Ian Macfarlane, Senior Vice-President and General Manager, Imaging Technologies & Communications Group and Market Development Group, Canon Canada. "This camera's outstanding image quality combined with built-in wireless technology and popular creative functions and filters makes it easy to turn photos into works of art and share them immediately."
Wireless Connectivity
The EOS 70D Digital SLR camera's built-in wireless transmitter offers users several connectivity options to easily share their images. With the download of the free EOS Remote app2 from the Apple App Store or the Google Play store, users can connect to both iOS® or AndroidTM smartphones and tablets3 to wirelessly transfer photos and videos from their camera to their device. They can also control aperture, shutter speed, and ISO from their smartphone. This camera also has the ability to connect directly to Canon's iMAGE GATEWAY4, making photos easily accessible and ready to share on social networking sites. In addition, the EOS 70D has the ability to connect wirelessly to computers, DLNA devices, Wi-Fi Certified® Canon cameras and wireless PictBridge5 compatible printers, such as the PIXMA MG6320 Wireless Photo All-In-One printer model.
Superb Still Performance
Featuring a new 20.2 megapixel APS-C Canon CMOS sensor and Canon's superb DIGIC 5+ Image Processor, as well as an extensive ISO range of 100–12800 (expandable to 25,600), the EOS 70D Digital SLR camera is capable of producing sharp, detailed images, even in low-light conditions. And with high-speed continuous shooting of up to 7.0 frames per second (fps) united with a 19-point all cross-type AF system (including a high-precision f/2.8 dual cross-type AF center point), the new EOS 70D allows photographers to easily capture accurately focused fast moving subjects. In addition, the camera's Scene Intelligent Auto Mode delivers optimized photos and offers outstanding scene detection for amazing results even when shooting in low light.
The EOS 70D also incorporates a 63-zone Dual Layer IFCL (Intelligent Focus, Colour & Luminance) AE metering system which enhances accurate exposures by minimizing random metering errors caused by varying subject colours and light sources. Other useful features include a built-in Electronic Level Function, Manual WB settings and AF Microadjustment.
Enhanced EOS Full HD Movie Mode for Professional Quality Video
With Canon's new Dual Pixel CMOS AF system and Movie Servo AF, the camera provides continuous phase-detection AF during video recording for quick and accurate focus tracking of moving subjects in the central 80% of the imaging area. While shooting with any of Canon's Stepping Motor (STM) lenses, such as the new EF-S 18-55mm f/3.5-5.6 IS STM lens, motor noise from the lens is significantly reduced so the camera will only capture the stereo sound of the scene being recorded. For added flexibility, the EOS 70D Digital SLR camera also features a built-in stereo microphone with manual audio level adjustment and an attenuator function to reduce audio clipping, an accessory jack for external stereo microphones and Video Snapshot mode with editing for expanded video shooting options. When users select the EOS Video mode, the EOS 70D offers the ability to shoot in 1080p Full HD video up to 30 fps in either ALL-I or IPB codecs with optional embedded time code, matching the flexibility of other current EOS cameras such as the EOS-1D X, EOS 5D Mark III, and EOS 6D models.
Expanding Creativity
The EOS 70D Digital SLR camera provides advanced amateur photographers and photo hobbyists looking to hone their creative and technical skills with an innovative range of in-camera imaging features such as High Dynamic Range, Multiple Exposure, Handheld Night Scene and HDR Backlight Control modes that allow for expanded creativity. The new camera is also equipped with built-in RAW Image Processing and Image Resizing functions.
And when any one of the seven Creative Filters is applied in Live View, users can preview the effect of the filter on the 3-inch Vari-Angle Touch Screen monitor without having to shoot the image first. Users can pick from effects such as Art Bold, Fish-eye, Water-painting, Grainy Black and White, Soft Focus, Toy Camera, and Miniature and choose the one that best expresses their creative vision before or after the image is captured.
All of these features, when combined with a high-resolution Vari-angle Touch Screen 3.0-inch Clear View LCD monitor II with intuitive touch controls featuring multi-touch operation and Touch AF, make the EOS 70D the ideal camera choice for photographers looking for the best in imaging technology.
The EOS 70D is compatible with the full line of Canon EF and EF-S lenses as well as SD/SDHC/SDXC memory cards, including Ultra High Speed (UHS-1) cards.
---
Image Gallery