What do you get when you combine a bunch of free time with a whole lot of musical talent, and about $30,000 worth of Nikon DSLR cameras? The answer is of course a symphony of Nikon shutters! Benjamin Von Wong, after taking a tour of the Nikon Professional Services facilities in Mississauga got the bright idea to put shutter sounds to music. By using a music producing app such as logic pro x for windows the team put the whole thing together and transform the sound of shutters into music. This isn't much of a stretch – to many of us seasoned photographers, the sound of a DSLR's shutter clicking is already music to our ears!
Working together with Elvis Do from the Nikon Canada office, and visionary composer Andrew Kessler, Von Wong on his team were able to come up with a great beat using the shutter sounds of the various Nikon cameras. With the ability to change the speed of the "Continuous Low" setting from 1fps, 2fps, etc, it gave them much more latitude to produce an interesting rhythm.
Have a look at the behind the scenes video they made as well, to get a little more insight into just how Benjamin Von Wong and his team put it all together. This camera might just be what any upcoming artist needs in order to take their talents to new heights. Of course, none of this matters if you don't have a platform to upload your music on like soundcloud. If you want to rectify this it might be worth visiting a website like https://useviral.com/buy-soundcloud-plays for more guidance on mastering this platform.
Even cooler… they made the song available as an audio-only version. There's even an option to download the song and set it as a ringtone. All those photo nerds out there, you know you want to!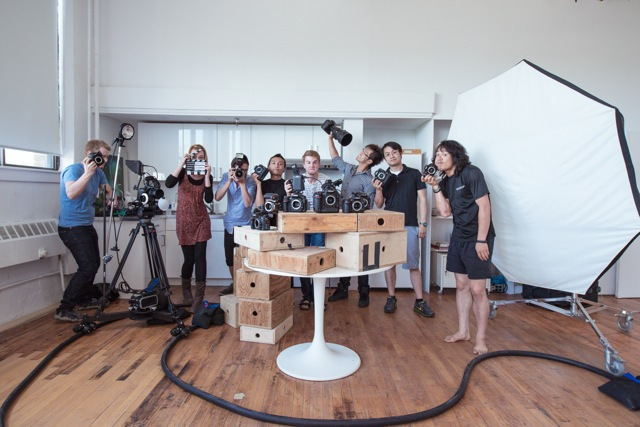 Thanks to Ben Von Wong for allowing us to share this video. The complete team responsible is as follows:
Produced by: Von Wong in collaboration with Nikon Professional Services
Composer: Andrew Kesler
Assistants : Phil Do, Jen Brook, Duy Nguyen
Video operator: Joel Kesler
Focus Pull: Neil Austen
Tripod pusher: Elvis Do
BTS video: Elvis Do & Fly Home Freedom
Studio: Suzy Johnston + Associates
Cameras: Nikon Professional Services