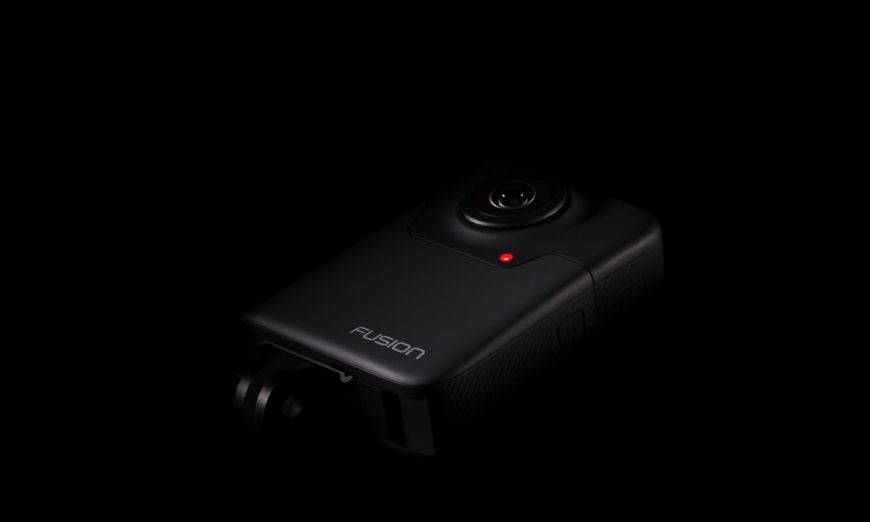 GoPro is a leader in the action camera space. While other vendors have been playing in the 360 market, the recently-released Fusion is the newest market entry from the action camera experts at GoPro. Let's have a look.
Unboxing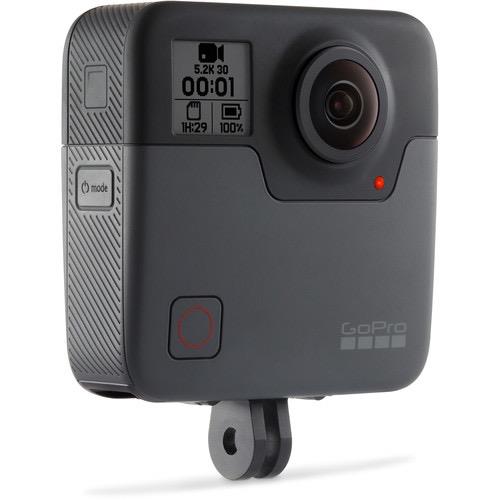 Figure 1: GoPro Fusion 360 Camera
The Fusion comes in a nicely laid out box containing the camera, a USB-C cable to charge the battery, two adhesive mounts, a locking screw and a telescoping grip. The grip (with built-in extension pole and tripod) looks like a selfie stick but is pretty much integral to using the device as a 360 camera. It works very well and also acts as a mini tripod.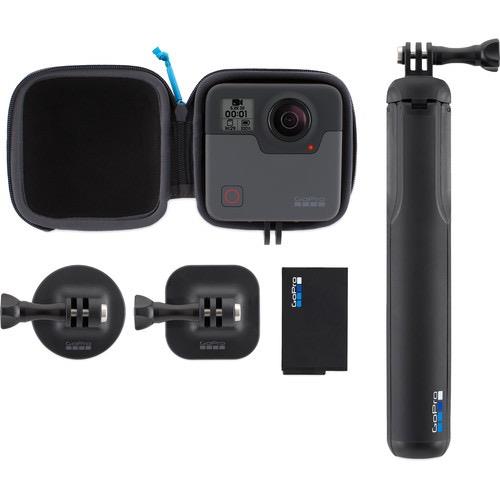 Figure 2: GoPro Fusion Starter Kit contents
Not a lot of documentation is provided in the box. What is there is mostly iconography and implies that no buyer actually reads the documentation. This was disappointing since there are two microSD slots, but only one came populated with a 16GB card and the camera seems to need a card in both slots to be usable.
Getting Ready to Shoot
You will need to download the GoPro app from the Apple App Store or Google Play for Android in order the really get the most from the device. The on-camera menus are easy to use, but rather simplistic and the real functionality gets best exposed in the app.
Start-up is very quick; under 3 seconds (in my experience) from being completely off. There are two lenses, one on each side of the device and record start is prompt, with stop taking a bit longer to write the files completely.
In addition to the basic app, you are going to want to get the Quik app for your smart device and for your PC. I would also strongly recommend downloading GoPro Fusion Studio for your PC or Mac, so you can do some decent editing of your 360 footage. Quik enables the rapid editing of short clips for sharing on social media but for proper editing, you are going to want Studio.
The workstation used in the majority of testing was a Lenovo P70 laptop. It was built with video editing in mind, so is heavily populated with memory and fast GPU systems. As I was installing Studio, it also included the GoPro VR player and for its install it automatically added a plug-in for Adobe Premiere Pro. It is nice to see enablement for professional grade editors. A separate set of VR plug-ins was installed and auto detected Adobe Premiere Pro and Adobe After Effects.
Using the GoPro Fusion
Shooting video and stills with the Fusion is a piece of cake. GoPro figured this part of the user interface out a long time ago. Shoot until the card fills up. Then connect to the computer with the supplied cable and launch Fusion. The computer can read the camera and download the videos and stills. Once you have done your basic editing, you can render the files for playback and sharing.
The GoPro Fusion Studio app does not handle the Lenovo P70's hi-res display well. You have to maximize the window to see all the elements and buttons, as the basic window will not scale top to bottom. I've seen other applications have issues with the hi-res display, so this is annoying but not a showstopper. When I later tried the Macintosh version it all worked perfectly.
I did find a complete owner's manual on the web for the Fusion, but documentation does not exist for Fusion Studio. The only docs available are for the older GoPro Studio app from years back.
Editing and Sharing
The Quik desktop app is designed to build shorts a maximum of 30 seconds long for use on social media with your Fusion footage. It's a very basic app that does exactly what it says it does. There is no documentation, but there is a tutorial embedded in the Help system.
I noted that the GoPro software contains expired security certificates and also has a propensity to want to phone home and to talk to Google Analytics. (Please note that the security certificates are embedded when the code is compiled and must be updated by GoPro. Software typically shares your usage information with the maker. )
I was unable to get the Studio software to load files off a hard drive. However, when I connected the camera directly via USB, it showed all the clips on the camera card. The first issue could be simply user error, but in the absence of any documentation, I was stuck. Once I did the USB live connect, all was fine and files got moved to the storage drive smoothly. I was able to select, do some basic trimming, and choose either GoPro, Flat or manual colour tuning. There are also corrections available for Yaw, Pitch and Roll as well as to apply differing levels of stabilization.
Figure 3: GoPro Fusion Studio edit window
As one would expect, there is significant distortion on the edges, not surprising given the large round lens elements. When you move your edit to the render queue and render it, you have choices of resolution and output target.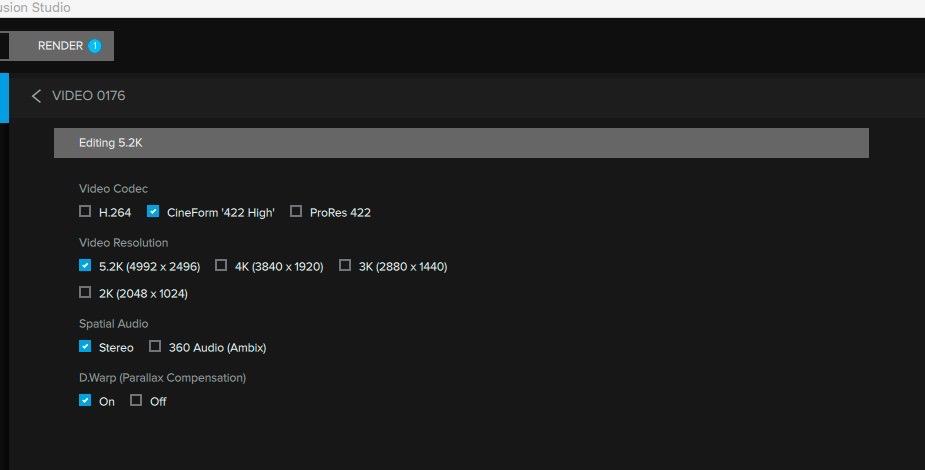 Figure 4: Cut in the GoPro Fusion Studio render screen
The default video codec is GoPro's own CineForm 4:2:2, but you can opt for H.264 or ProRes 422. Video resolutions include 5.2K, 4K, 3K and 2K. I shot all my test clips at 5.2K although the camera offers you a 2.7K capture option for smaller files.
You can also decide between stereo audio or 360 audio. 360 audio immersion is a new development that allows listeners to experience audio as if it was being directed at them from all angles, as it would be in real life, even when the recording is being played from one device from one direction. It's an exciting development that further enhances the 360 video experience. I must advise that the free built-in mics produce passable audio, but no better than the built-in microphones on any other camera. Buyers may choose to mute this audio and replace with a different audio track, or leave the video silent. If you want to run external audio in, you will need the Pro 3.5mm mic adapter that plugs into the USB-C port and provides a mic input and USB-C pass-through. Placement of the microphone is going to be a potential issue, because the only thing that the Fusion does not see is itself. I did not have the adapter and did not look to find good ways to handle this.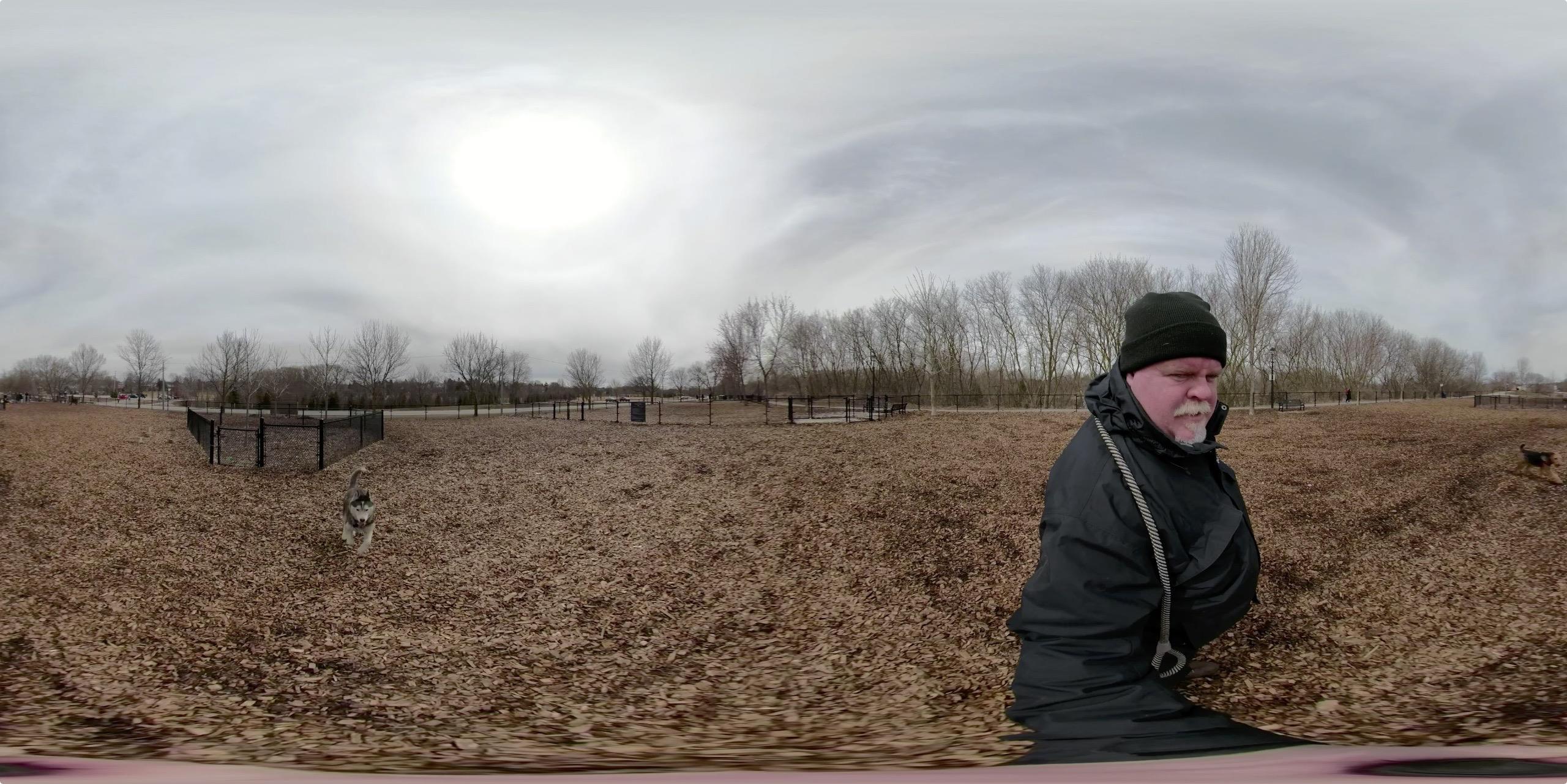 Figure 5: Still grabbed from a rendered Fusion clip shot in 5.2K and rendered with the GoPro CineForm 422 codec
The Fusion Studio app does not have a "grab still" function, but you can use the GoPro Fusion to take stills. You do have control over the look, so you can get the full 360 in a panorama like image or if you want the tiny planet still image, you can have that instead.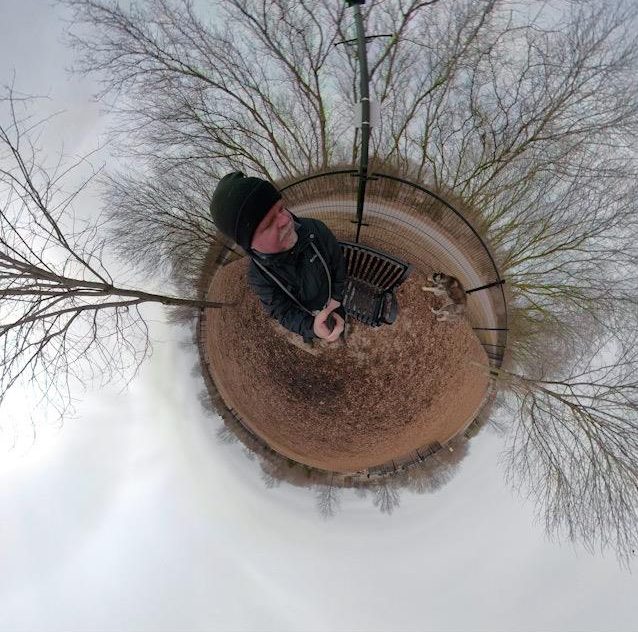 Figure 6: "Tiny Planet" render look
The video files that come out of the camera need proper processing. You can view them without processing, but they look odd as seen in this still frame (Figure 7).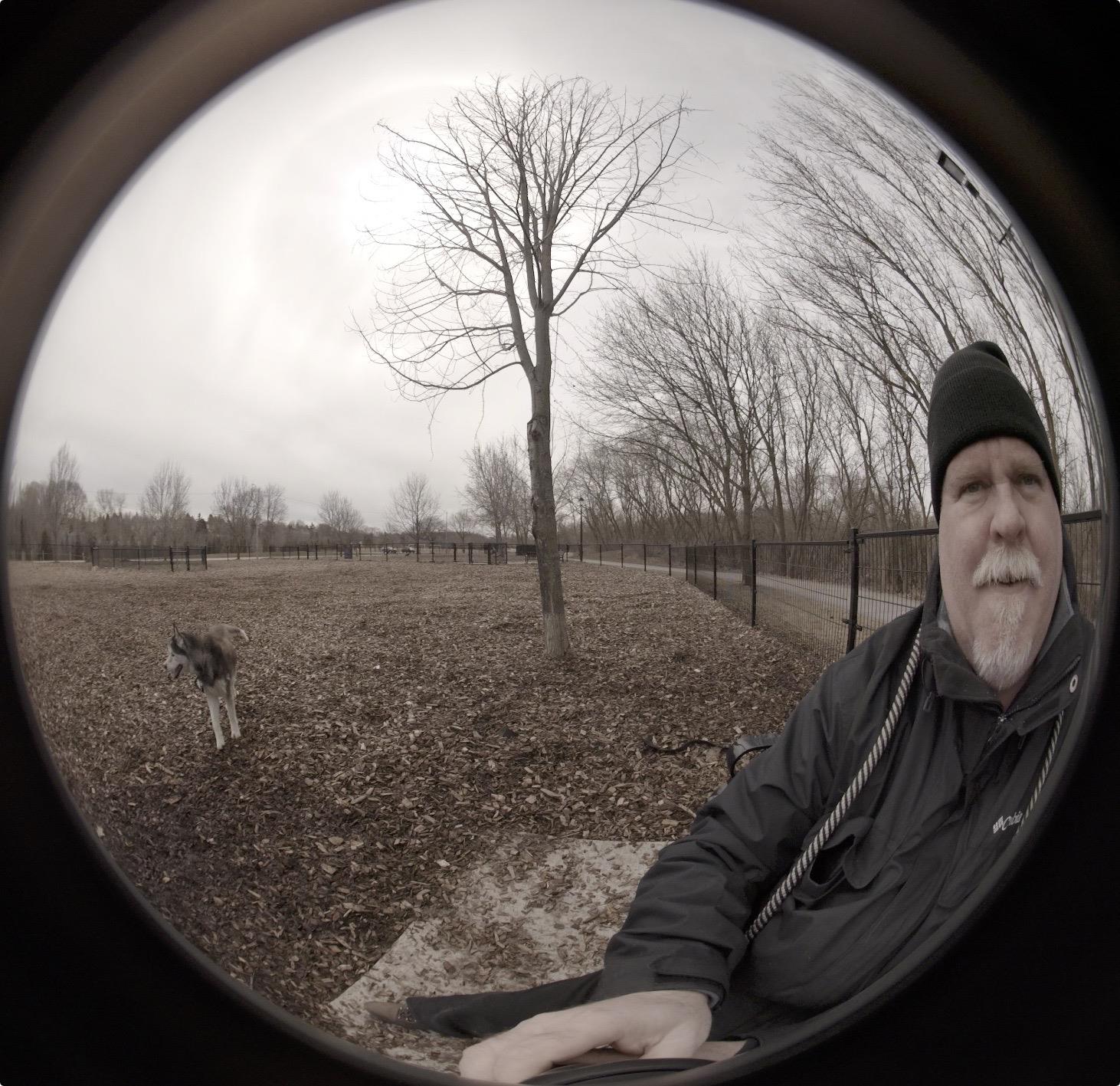 Figure 7: Still frame grabbed unprocessed out of a camera video file. It not only needs the 360 rendering, but it needs the colour work as well.
I will say that the rendered colour looks quite good, certainly as good as, if not better than, other 360 cameras. Where the GoPro really excels is in the stitching process to produce the 360 video. It's faster and looks a lot better than the competitors that I have tested and does not create artifacts as the others do. Of all the 360 cameras that I have had reasonable hands-on experience with, the output from the GoPro Fusion is far and away the best.
I was very pleased to see that GoPro Fusion Studio has built-in render export presets for Facebook, YouTube and Vimeo; all of which can show 360 videos. While I shot all my test clips in 5.2K resolution, when I selected the Vimeo output, it automatically used a 4K resolution for the file and changed the codec to H.264. You still upload your rendered video manually, but in my test, Vimeo detected that it was 4K 360 degree video automatically. You can watch a directly exported video with no corrections applied below.
At $899.99 CAD, the Fusion is not a casual purchase, but the vlogger or videographer who requires very good 360 footage from a small, solidly built and pocketable camera will love the device. It also leverages the incredibly wide GoPro ecosystem of accessories. It will also work with the GoPro wireless remote which means that you do not have to connect your smart device to control it.
Conclusions
You may look at the cost and determine that you don't want to spend this kind of money for a field backup solution. If that's the case for you, then you might want to take a look at the best 360 camera for a lower budget. That's a personal choice, but if you shoot a special event like a wedding, backup is important to help prevent critical data loss. The ability to do a quick edit in the field and get it on social media right away will be a big win for some people. I find the lack of documentation and limited function in the GoPro Fusion Studio product a limitation. The old non-360 GoPro Studio was a very good product. You need to download the GoPro VR player to get the full benefit of the 360 playback, and I found that the VR plug-in in Premiere Pro automatically detected the 360 footage which made the editing easier. There is no direct support for Final Cut Pro X, DaVinci Resolve or Avid Media Composer.
If you have questions about this or any other subject, please leave a comment below.
Until next time, peace.