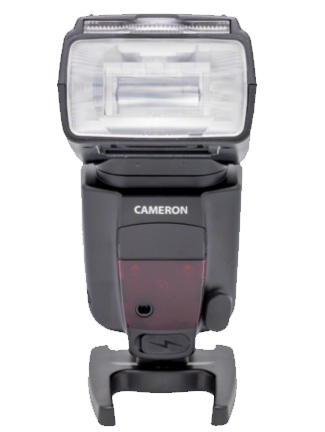 Photographers often have a love/hate relationship with flash. I love flash and use it a great deal. Others find it hard to use and avoid it like it was toxic. I cannot fix that for you here, but I can tell you about two new flashes, available exclusively at Henry's that will do a great job for you, both on and off camera.
Many of our cameras come with little popup flashes. They work, but the images are flat with harsh shadows because the light is inline with the lens and is a tiny source. They also don't have a lot of power. In some cameras, however, they can be used as flash control transmitters to manage off camera flashes and that's a real benefit. Check your manual to see if your camera supports this functionality.
There's a simple rule for flash. Buy as much power as you can afford. Your flash also needs to be lightweight and easy to use, or we all know it will stay at home. Both Nikon and Canon make superb flash units, often called Speedlights. The top line models have lots of power, bounce / swivel heads, popup diffusers, direct, master and remote control and support multiple flash modes including TTL (through the lens) and manual flash output control.
Those are great flashes, but hobbyists and developing photographers often buy underpowered and feature poor units because the OEM best flashes don't fit their budget. With the new Cameron W700HS units, you get what comes in the OEM high-end flash units at a much more affordable cost.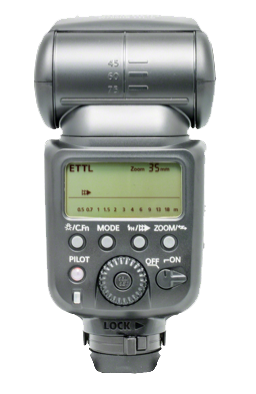 I've included some images for you. If you've ever seen, used or own a Nikon SB-910 or Canon 580 EX II flash, the Cameron units are going to look awfully familiar. They have the same layout as the OEM units. Controls and menus are also the same, so if you are already competent with the OEM flash and want to add more flashes to your kit, your learning curve is pretty much flat.
I've been working with both units for a bit now and am very impressed. Construction is very solid and some key speedlight features are there. The Nikon version fully integrates with Nikon's Creative Lighting System that allows multiple groups of flashes to be controlled centrally. The Canon version works the same way with Canon's remote management, although they don't give it a nice name so far.
The remote control is via infrared communication, just like the OEM products and is extremely easy to set up. In fact, you can control multiple flashes in different groups and at different power settings right from the camera. If you end up making two and three light setups, this will save you a lot of time and a lot of money you would have spent on Aspirin.
In each box, you get the flash unit, a coherent and easy to read the manual, a nylon case, a table stand that can also mount to a tripod or light stand and a dome diffuser. The dome diffuser spreads the light for when you are using ultra wide lenses. Contrary to popular misconception, it doesn't "soften" the light, but it does spread it out, so if you are using your 10mm lens, you have less probability of darkened edges.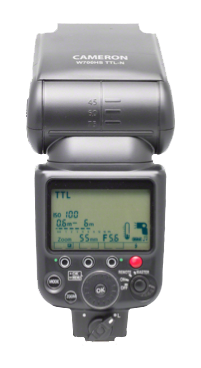 Use is incredibly simple. Take the flash out of the box and install 4 AA batteries. I personally advocate rechargeable batteries with a rating of at least 2400ma to get the maximum number of flash pops on a charge. Flashes can work with alkalines, but tend to go through them fairly quickly. While I haven't stress tested the Camerons yet, I can get just over 200 full power pops from a single set of rechargeables. If I shoot in TTL mode, (and I often do because it works perfectly most of the time) I can get a lot more flashes because the camera/flash combination only pushes as much flash output as is needed for the image.
You can control the flash exposure in TTL mode by using your camera's Flash Exposure Compensation function. This is just like the exposure compensation you use for ambient light, but instead it works with flash. If you prefer to use your speed lights in manual mode, the Cameron units have power control from full power down to 1/128 power. The Cameron units have a published guide number of 60, similar to Canon's 600 EX. Nikon rates their SB-910 lower, but I believe that their measurement method is different because I have used SB-910s in the field a lot and they outperform other units with the same rating by a significant margin. The good news for you is that if you mix OEM and Cameron flashes, they will have similar output characteristics in addition to operational methods.
In addition to regular TTL and Manual modes, the Cameron units support functions such as High-Speed Sync and Rear Curtain Sync if your camera body does as well. Not all cameras have all such functions, but it's good to know that if the camera can do it, the Cameron flash units can keep up.
It's fair to ask what you don't get given that you are saving over $200 per flash compared to the OEM product. I think that both the Nikon and Canon branded peer offerings are built with heavier duty materials. I also find that the click stops for bounce and swivel are more precise and hold better on the OEM products. Canon's 600 EX RT also includes a radio transceiver for remote communication with other EX RT products, so the Cameron more closely mirrors the 600 EX. Radio is a different way of communicating to remote flashes with greater range and reliability than infrared. Most photographers who need a radio, go with third party controllers. If that's you, take a look at the new Cameron HSS240 radio transmitter/receiver kit that fully supports TTL. More on that system in a future review.
Every photographer needs at least one reliable and powerful Speedlight. If you or the photographer in your life has been holding off, the Cameron W700HS will make the decision easier and the success excellent.
Until next time, peace.