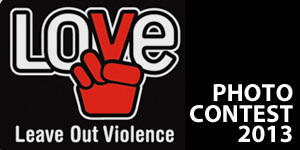 Henry's is proud to be a sponsor of the 2013 Leave Out Violence (LOVE) Photo Contest. LOVE is an award winning, not-for-profit, grass roots youth organization that is an effective means of social change, providing hope, motivation and opportunity to thousands of young people.
Since our support began in May 2005 we have raised more than $120,000 to help end violence, one youth, one school, one neighbourhood at a time.
LOVE's multi-media programs in Photography, Video, Radio Broadcasting and Journalism teach youth how to document the violence in their lives and create concrete solutions to end violence. These young people then graduate into Leadership Training where they develop the skills, confidence and passion to become part of LOVE's community violence prevention team, sharing their message of non-violence in schools and in their communities.
LOVE is creating a youth led movement against violence by teaching credible youth how to use their voices and become champions against violence. Since LOVE began in 1993, these young leaders have reached hundreds of thousands of children, youth and adults reducing violence in schools, neighbourhoods and homes.
For more information about the 2013 Photo contest, visit http://www.leaveoutviolence.org/photocontest2013