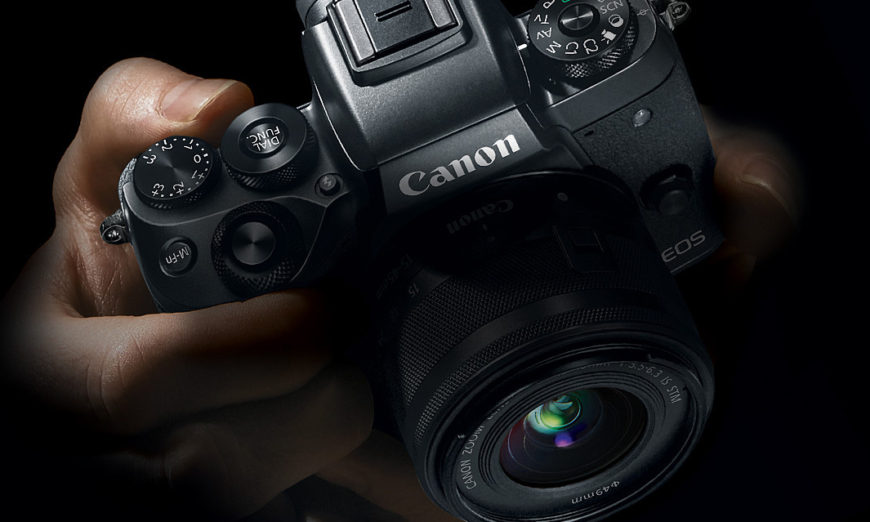 Canon is one of the top camera makers in the world, with respect earned over decades of excellent products.  The fastest growing platform in cameras today is the mirrorless space, and yet there are still many folks who are not aware that Canon is in the mirrorless business.  I'm going to provide some insight into Canon mirrorless in the next two articles.
EOS M
It's been several years since the very first of Canon's EOS M family of cameras debuted, with the original EOS M.  The M family uses APS-C sensors, the type that we refer to as crop sensor. These get the same coverage as what we find in many cameras whether DSLR or other mirrorless bodies.  The APS-C sized sensor is well respected globally and is numerically the most widely used sensor size in the world.
By removing the mirror box, the larger pentaprism and optical eyepiece, mirrorless cameras can be built thinner.  This size and weight reduction is one of the major reasons why some may prefer shooting mirrorless.  The idea of less bulk and less weight appeals more to photographers on the go.  This change in size also requires a change in lens design, because the distance between the lens and the sensor has lessened and just like every other mirrorless release, a more compact lens design is mandated.  Moreover, by deciding to go with the APS-C sensor, there is no requirement for the larger image circle created by a lens designed for a full frame camera.  Consequently, the lens for an EOS M can be physically smaller and lighter weight.  This means that buyers can still get  the lens quality Canon is known for, in a smaller package.
Many mirrorless cameras exist without an eye-level viewfinder, commonly referred to as an EVF (Electronic Viewfinder).  Many of the Canon EOS M family are the same.  By providing a large bright LCD, users of the cameras can comfortably use and compose their images, in a manner that they are already accustomed to from either point-and-shoot cameras or from smartphones.  Canon does have a model with an excellent EVF, for those who prefer an eye-level viewfinder.
Image Capture
Canon has been extraordinarily successful with the APS-C sensor in their DSLR cameras.  From the small design of the EOS Rebel SL2 to the prosumer-oriented EOS 7D Mark II, Canon has delivered superb image quality in their proven APS-C sensors.  As you have probably gathered by now, Canon's EOS M family uses the same type of sensors as their DSLR cousins.  This means that the buyer is not compromising image quality when choosing a smaller, and lighter, camera body.
Lens Mount and Lenses
In order to leverage the physically different design and smaller and lighter lenses, Canon developed a new lens system and lens mount mechanism called EF-M  The lenses are autofocus of course, and the mount is a traditional bayonet style design.  While the lenses and the EF-M mount are unique to the M family, Canon did ensure that customers with existing Canon lenses were not left in the lurch by producing the Mount Adapter EF-EOS M that allows the mounting of any EF or EF-S lens to an EOS M body.  This provides superb investment protection for a buyer moving to Canon mirrorless from a Canon DSLR and also ensures that the choice of an EOS M body as a second body or travel camera does not negatively impact existing lens investments.  Some review sites take the position of "insufficient" numbers for choices of lenses.  These blanket statements are mostly ludicrous, because "sufficient" is driven by the buyer's use cases.  Let's look at a quick table of the choices available right now.  All EOS M lenses use Canon's STM focus motor technology for silent autofocus, so no noise when shooting videos.  Do not forget that it is possible to directly mount any of Canon's professional lenses with the Mount Adapter EF-EOS M, so the range of available lenses is actually very substantial.
Autofocus
The very first EOS M camera received negative reviews for its autofocus performance.  The focus was accurate but slow to attain.  This stigma still floats around but has not been accurate for some time.  EOS M cameras have performance very much like the Canon DSLR cameras that they live beside.  A buyer should not believe that the autofocus is less than what a similarly priced DSLR would provide.  In the Full Auto modes, the camera determines the AF point to use. In Program, Semi-Automatic and Manual modes, the photographer can choose which single point to use, or let the auto zone capability decide where it is available.
Storage
As we find in most mirrorless cameras, each of the EOS M models being discussed has a single memory card slot capable of taking SD, SDHC and SDXC format cards.  The slots can run at a maximum performance level of UHS-I rated cards, so there is no need or value in spending more on the higher performance and much more expensive UHS-II cards.  The card slots are located on the camera sides, which is much more convenient than having them on the bottom plate which could necessitate removing the camera from a tripod or tripod plate to change cards.  The side mount access is what we find in high-end products.
Exposure Control
The M10 and M100 are both designed for speed of use offering simple on/off with a three position switch for Auto, Intelligent Auto and Movie options.  Other exposure options, including PASM (Program, Shutter-Priority, Aperture-Priority, Manual) and Scene modes are available through the touch screen display.  The M5 and M6 have the same kind of options, but they are directly addressable via a large well-labelled dial on top of the camera.
Quick Comparison Table
I have put together a quick comparison table showing four models of EOS M cameras.  I will go into individual detail on each camera, but a quick chart like this can be very helpful to get started.
Model
EOS M10
EOS M100
EOS M5
EOS M6
Kit Lens Included
15–45mm f/3.5-6.3 IS STM
15–45mm f/3.5-6.3 IS STM
15–45mm f/3.5-6.3 IS STM
15–45mm f/3.5-6.3 IS STM
Base Price with Kit Lens (

1

)
$399.99
$599.99
$1249.99
$1049.99
Sensor Megapixels
18.0
24.2
24.2
24.2
Shutter Speed Range
30s – 1/4000s
30s – 1/4000s
30s – 1/4000s
30s – 1/4000s
ISO Range (Stills)
100–12800
100–25600
100–25600
100–25600
Card Type (5)
SD/SDHC/SDXC
SD/SDHC/SDXC
SD/SDHC/SDXC
SD/SDHC/SDXC
Metering Patterns
Evaluative, Partial, Spot, Centre Weighted
Evaluative, Partial, Spot, Centre Weighted
Evaluative, Partial, Spot, Centre Weighted
Evaluative, Partial, Spot, Centre Weighted
Exposure Modes
Full Auto, Scenes, PASM (2)
Full Auto, Scenes, PASM (2)
Full Auto, Scenes, PASM (2)
Full Auto, Scenes, PASM (2)
AF Type
CMOS AF II
Dual Pixel with Phase Detection
Dual Pixel with Phase Detection
Dual Pixel with Phase Detection
Total # AF Points
49
49
49
49
Finish Options
Black
Black
Black
Silver / Black
Has EVF?
NO
NO
YES
Optional at extra cost
LCD Size and Type
3″ tilt and touch screen
3″ tilt and touch screen
3.2″ tilt and touch screen
3″ tilt and touch screen
LCD Resolution
1.04M dots
1.04M dots
1.62M dots
1.04M dots
Max Burst Rate (3)
4.6 fps
4 fps
7 fps
7 fps
Wireless Remote Control
NFC, Wi-Fi
NFC, Wi-Fi, Bluetooth
NFC, Wi-Fi, Bluetooth
NFC, Wi-Fi, Bluetooth
CPU
Digic 6
Digic 7
Digic 7
Digic 7
Max Video Resolution
1920×1080
1920×1080
1920×1080
1920×1080
Max FULL HD frame rate
30p
60p
60p
60p
Microphone Jack
NO
NO
YES
YES
Headphone Jack
NO
NO
NO
NO
Flash and Guide Number
Built-in GN5
Built-in GN5
Built-in GN5
Built-in GN5
Flash Sync
1/200
1/200
1/200
1/200
Has Hot Shoe?
NO
NO
YES
YES
Tilt Swivel LCD
Tilt up 180 degrees
Tilt up 180 degrees
Tilt up 85 degrees and down 180 degrees
Tilt up 180 degrees and down 45 degrees
Interfaces
HDMI C (Mini) USB2 Mini
HDMI D (Micro), USB2 Mini
HDMI D (Micro), USB2 Micro
HDMI D (Micro), USB2 Micro
Wired Remote Port
NO
NO
YES
YES
Battery Type
LP-E12
LP-E12
LP-E17
LP-E17
CIPA Battery Rating
255 shots
295 shots
295 shots
295 shots
Weight (4)
301 grams
302 grams
427 grams
390 grams
1   – Sale Prices valid until February 1, 2018, while quantities last.
2   – PASM refers to Program, Aperture-Priority, Shutter-Priority, Manual
3   – without AF lock
4   – including battery and memory card
5   – EOS M camera memory card slots are rated for maximum UHS-I cards
As we look to the table, we find that all of the noted models of the EOS M family are delivering on the expectations for a good general use stills and video camera with interchangeable lenses.  As we will see in part two, the M10 and M100 are targeted at the more cost-conscious buyer, but still deliver a strong selection of options for the investment.  The M5 and M6 are built tougher, and both can drive external speedlites and either have or can use an Electronic Viewfinder, but those differences given their pricing may be less attractive to the new buyer.  For those who need an EVF or who may find themselves in more physically demanding shooting situations, the M5 and M6 are better suited.
More to Come
In our next article, we will take a deeper dive into each of these four EOS M cameras to help you determine which one best fits your use cases.  We will also look at four different EF-M lenses as well as the Mount Adapter EF-EOS M, so stay tuned for part two.
Until next time, peace.