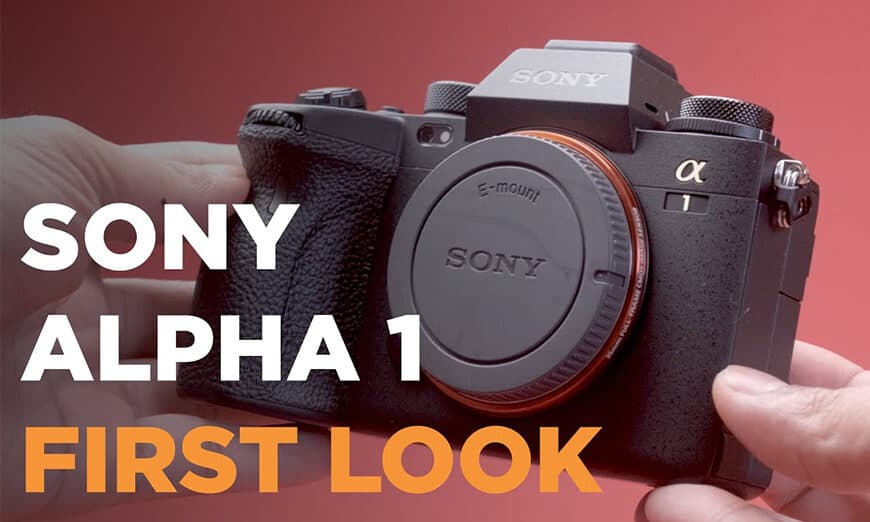 In this video, Gajan gives us a first look at the Sony Alpha 1 Mirrorless Camera that was released at the beginning of this year.
---
­One Camera That Can Do It All
Last month, we got the opportunity to go hands-on with the Alpha 1, Sony's new flagship mirrorless camera. On paper, this looks to be the answer for those looking for one camera that can do it all. But how does it stack up when pushed in a professional environment? Let's find out.
The Astonishing Specs
The specs of the Sony Alpha 1 are astonishing! You have a brand new 50 megapixel full frame sensor that offers continuous shooting of up to 30 frames per second, with zero blackout.
The viewfinder has a whopping 9.4 million dots in varying refresh rates to keep you close to the action. As many have come to expect, you have a phenomenal auto-focus system with over 750 face detect AF points. That'll nearly guarantee an in-focus subject every single time. What's also special about this camera is that you have a flash sync speed of 1/400th of a second that'll allow studio photographers to maximize their off-camera lighting solution.
Here's the thing – it only gets better. The Alpha 1 is one of the only mirrorless cameras that offers internal 8K recording at up to 30P. You can capture 4k footage at up to 120P, and slow motion footage has been kicked up to 240 frames per second, at full HD. The inclusion of S-Cinetone, a full HDMI port, full pixel readouts, and 16-Bit, 4K raw output make this a remarkable pro-video solution, as well.
Powerful Creative Tool
During our full production, we prioritized photography over video, but switched between both to capture portraits and sample clips. Let me just say, the camera never quit. Not once did we have a situation where the camera glitched, or froze, or overheated during our production.
The inclusion of a new menu system that was ushered in by the Sony a7S III makes for easier navigation, but it's definitely something you'll sink hours into fine tuning for your shooting style. When shooting, we opted to use CFexpress cards, but what's great about this camera is you can also use SD cards. So if you have a bunch of SD cards available, you can save some money there to get it up and running.
What's fascinating about this camera is that it felt like a supercar where it can really get away from you if you're not intentional with how you're operating it. There is so much in here – a sense of limitless potential – and it's easy to overshoot the scene. But when you take a step back and reign in the settings to how you create, you have a truly powerful creative tool.
Geared Towards Professionals
While this isn't a full review, I do have an idea of who to appreciate this camera the most. Given the features said, and the price point, you're looking at a camera that is geared toward professionals that are in the field often and catered to photography a bit more than video.
Photo and Video
While the video features are astounding enough to make exceptions to this, I can't help but think of the sports photographer, the journalist, the fashion portrait shooter, that captures a lot of content regularly, and also finds value in capturing high quality video as part of their workflow. This is really a do-it-all camera that'll benefit those that have a demanding and robust workflow. While the spec sheet would appeal to anyone, I really believe it's the practicing professional that shares their work primarily, but not entirely, through photography that'll find the most value from a camera like this.
---
With all that said, I'd love to hear what you think, so let me know in the comments below.
Visit henrys.com to pre-order your very own Sony Alpha 1 today!