One of the highest points of 2013 for me has been the fact that I was given a chance to take a group of 15 travellers to Peru as part of a new service offered by the School of Imaging, Flight Centre and G Adventures: Photography Adventure Tours.
Back in early June, I wrote an article speaking to the preparation and decisions I had to make before going on this trip. Now I am pleased to be back to share my experience during this "once in a lifetime" journey.
Since this was the first of many trips we plan to offer, I was feeling a great deal of anxiety about it. I did not know what to expect, even though I felt I was extremely prepared. Of course, anxiety is a common feeling for anyone who might be doing something new as we can often feel out of our depth and overwhelmed. There are many different treatments out there, like thc tincture for sale, that can help to manage these symptoms.
In fact, a friend of mine recently recommended that I try cannabis products, as they are known to help people suffering from anxiety. If this is something you're interested in, then you can have a look at THC gummies here, although it is always advised that you speak to a medical professional first before embarking on any new treatment plan. I also realise that this treatment might not be for everyone and some people may prefer to look at alternative therapies instead.
For example, a lot of people use the CBD on Organic CBD Nugs to manage anxiety. CBD is similar to THC and it can help soothe anxiety, prevent insomnia, as well as seizures. However, it doesn't give the same "buzz" or high feeling as THC so many people prefer it. If you're from the UK, only CBD is legal so it might be worth looking into some of the best CBD oil products if you would prefer. However, after all the anxiety I had beforehand, nothing could ever have prepared me, or any of the other travelers, for the amazing locations we were able to see and photograph. Peru is an amazing place, and although completely different from our everyday Canadian life, it is incredible similar to my home country of Brazil… so I felt right at home.
We arrived in Peru and were greeted by our G Adventures guide, Elard Aranibar Meza, along with our driver. Not by chance, Elard is also a photographer… that was something we felt very strongly about when putting this trip together, because no matter how unique each one of us in the group was, we all shared a very important thing: a passion for capturing life through the lens.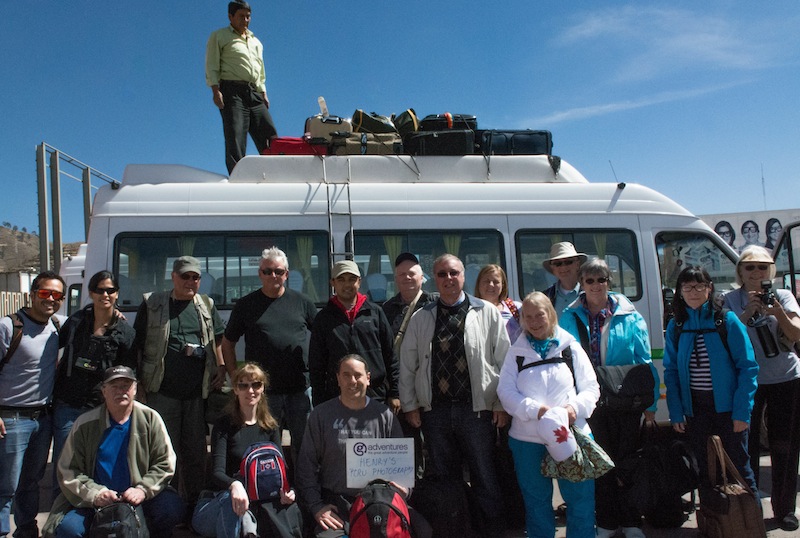 Our group after arriving in Cuzco
We spent our first day in Lima, and although the weather was not so nice to us, we took a walking tour and saw the urban side of the city. One thing in particular captured my attention: the hectic traffic and the amount of cars that could fit in such narrow lanes. We are so spoiled in Canada; we have enormous streets and roads, and everyone is very aware and respectful of the rules – both drivers and pedestrians. In Peru, driving is an adventure and being a passenger takes the experience up to a whole other level.

In Miraflores – Lima
While our itinerary included many cities like Cuzco, Maras, Moray, and Aguas Calientes, we visited some interesting ruins along the way. We also stopped at the Planetarra Weaving project. All of that included a mix of four different and amazing hotels, a 10km walk/hike along the train tracks, and numerous breathtaking views. Many of the photos we captured wouldn't have been possible if our itinerary wasn't planned this way. Although the main attraction of the trip was Machu Picchu, I can say with confidence that I captured some of the most amazing images from the trip even before I got close to the lost city.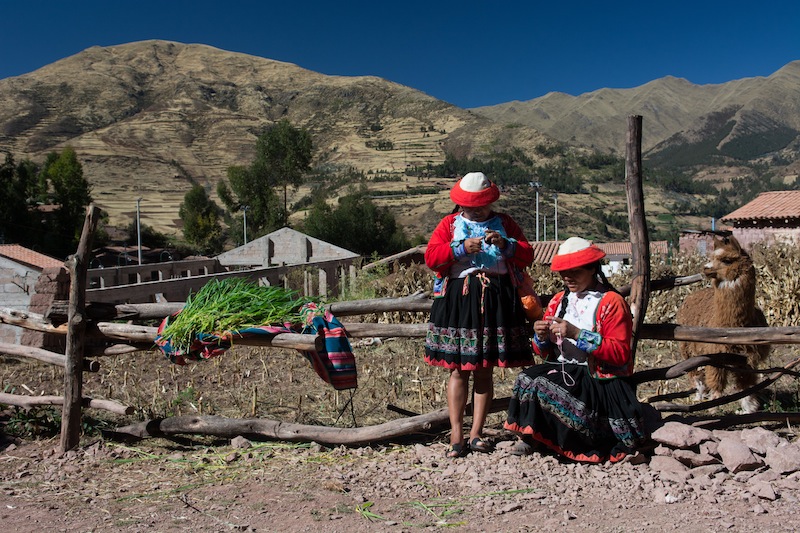 The Weaving Project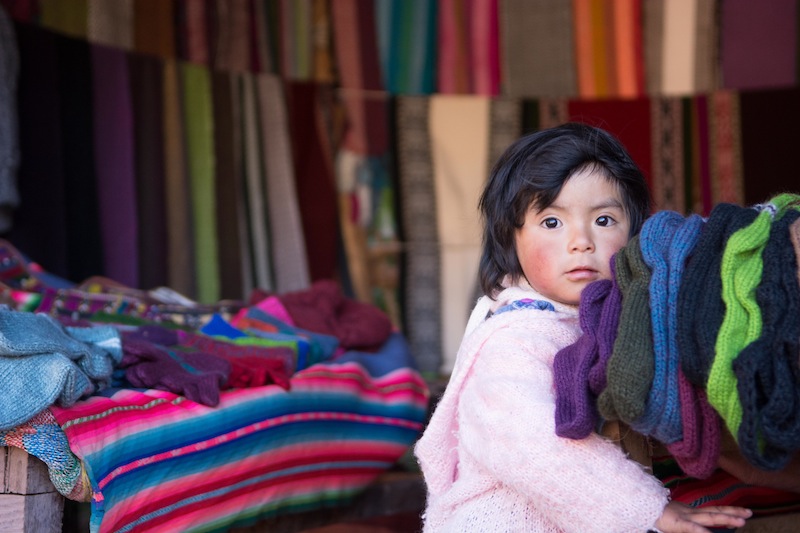 Keily at the Weaving Project
For me, the most spectacular location we visited was the Salt Mines in Maras. I had seen pictures before but nothing could have come even close to describing the proportions and magnitude of that place. From getting the chance to dip my hands in the salty water and taste it, to capturing the locals harvesting different types of salt, that place made a serious impression on me. Adelke, our guide for the day – who is a retired university professor – was very knowledgeable of the area and of the people. It was at that point that I started to realize the real value of having a local guide with you… they help you feel at home and more like a local than like a tourist. They know the amazing places, and the off the beaten path locations that many tourists never get to experience.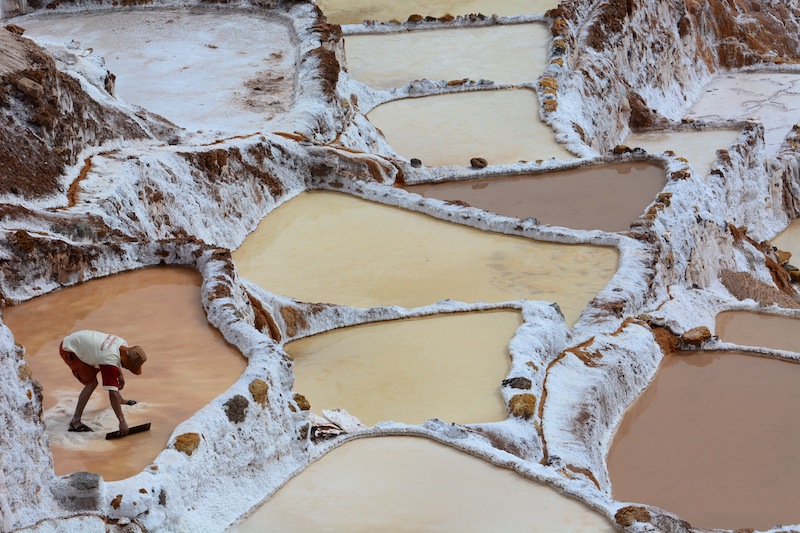 Salt Mines in Maras
While the trip was designed with numerous visits to places full of history about the Inca civilization, the fact that we had an opportunity to drive by and, in many instances, stop to see and capture current local life along the dirt roads was a big plus for all of us. Our daily destinations were beautiful, but seeing what life is like in the remote areas among the vast wheat fields was a priceless experience.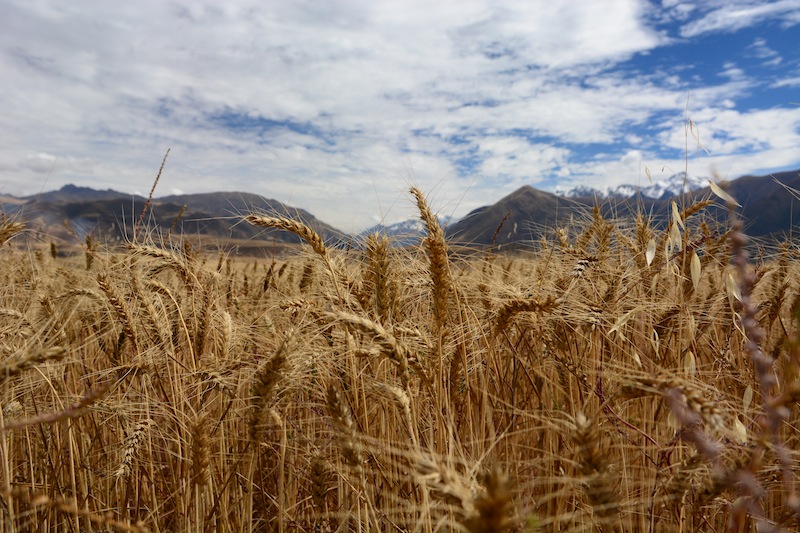 Wheat Field on the way from Maras to Moray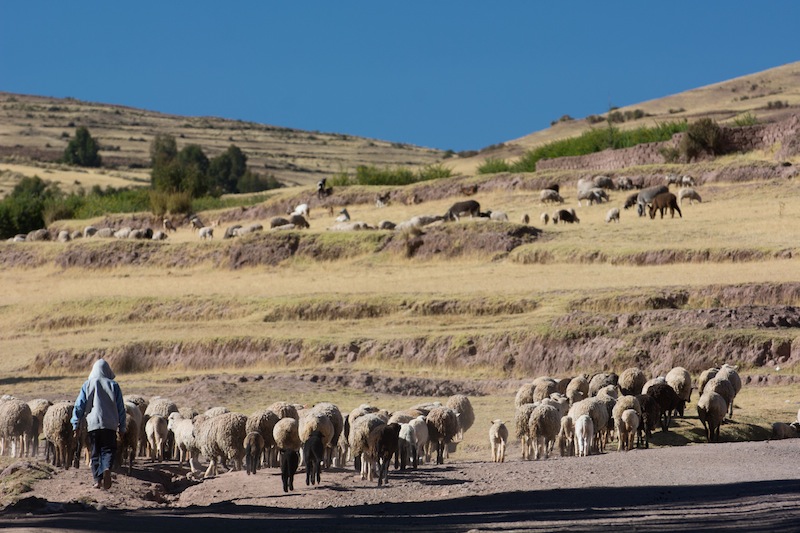 Little boy shepherd and his flock
At the end of the day, and after capturing the photos you see here, this journey was certainly an incredible one. I had the opportunity to share my passion with like minded people, while visiting a country that has so much beauty to offer. I learned a lot about myself and about my passion for photography, education and travel, and I realized that a trip of this scope is more than just an opportunity to capture beautiful vistas and exotic people – it is an opportunity to embrace differences, let yourself go, and get out of your comfort zone. It is about trying something new that you have never before considered, and not looking back – because once you go back home, the memories you bring along will all be worthwhile.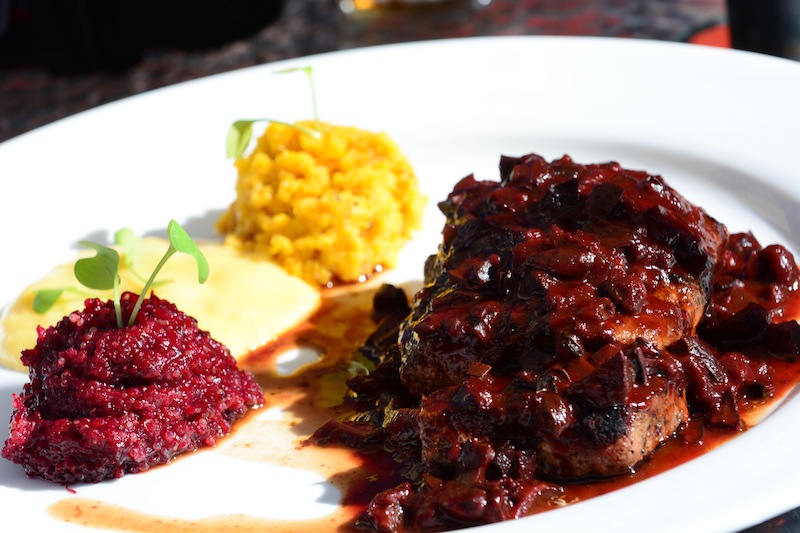 Alpaca Meat
If you are interested in our Photography Adventure Tours, don't miss out! Visit this page for details on our upcoming tours.
---
Our next Photo Adventure Tour, Incredible India, departs on October 25, 2013. We'll take a small group of travellers to India, where they will get a chance to capture wildlife and experience Diwali, the festival of lights. For some tips on how to capture great images in specific locations around India, take a peak at this article written by our instructor, Martin Ingles.
Want to photograph a tiger? Give yourself that opportunity during our visit to the Ranthambore Park, for a chance at capturing predators ranging from a tiger, leopard, crocodile and hyena, to smaller game such as jackal, sambar, wild boar and more. Plus, a tremendous variety of bird life including eagles, owls, partridge, jacana, stork, spoonbills, and more… the opportunities are just amazing.
And if you wish to capture great images of anything with fur, fangs or feathers, the number one technique is to be prepared before sighting the quarry.
If you expect to only get a quick glimpse of the animals in the grasslands or jungle, set your single focus point to the centre, and set your focus motor to continuous or tracking (AF-C, Servo).
If you expect quick-flying and flitting critters in open areas, set your focus points to dynamic or tight group, and drive to continuous high-speed.
As scenes change rapidly, try Aperture Priority at wide open (f/2.8 or f/4, depending on your lens) for the highest possible shutter speeds. If the aperture is wide, that results in the most light gain possible, so shutter speeds automatically go to the highest possible value. This way, you give up a large depth of field for the ability to stop action.
More stationary objects like the Taj Mahal may be at their most picturesque in the soft red glow of early morning, shrouded in light mist. To get the best results:
-Do not set out bleary-eyed before dawn and forget to set your camera properly. For this particular scene, get the camera ready the night before: empty card, fully charged battery, ISO 400-1600, and 0 exposure compensation.
-For creative images that are classic and not clich, set the camera's single focus point centred and set to allow for lock focus and re-composing for artistic perspectives.
-Adapt different lenses for different purposes, especially telephoto lengths for isolating features of architecture. Move in ultra close with wide-angle lenses and still show the "in-situ" backgrounds.
In busy locations like the historical Hazrat Nizamuddin Basti and in Dargarh, where locals play Safi and music and celebrate with musical traditions, freezing motion can be a bit more challenging depending on the time of day.
-To shoot in low light and stop movement, yet maintain some depth, will require higher ISO, but fast changing backlighting may call for Program Mode plus Exposure Compensation for quick results.
-Keep in mind that often it is best to "shoot loose" with a wide-angle lens to include the unexpected and crop for the perfect composition later.
At all times, be aware of your surroundings as you are the most important factor in great image-making; the pictures are already there waiting or you! Also, be aware of your equipment:
-Constantly check your camera settings. Check that your lens stabilizer is engaged, and where your focus points are set.