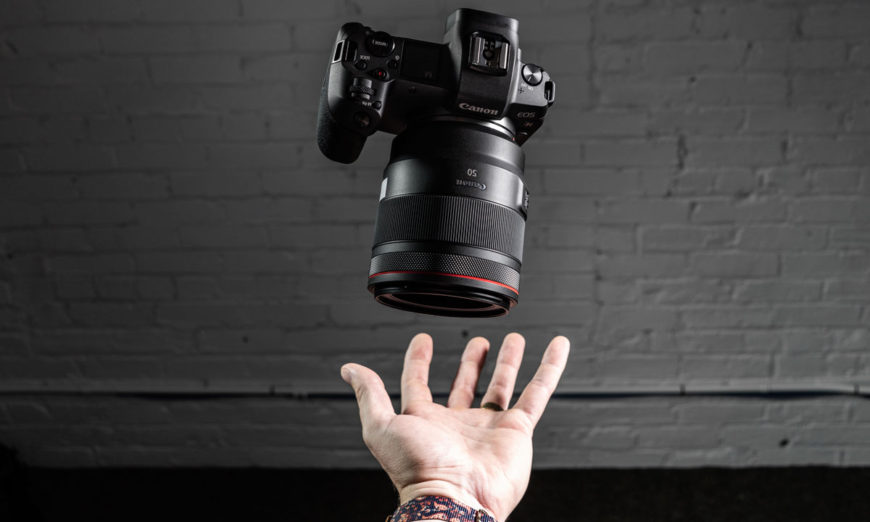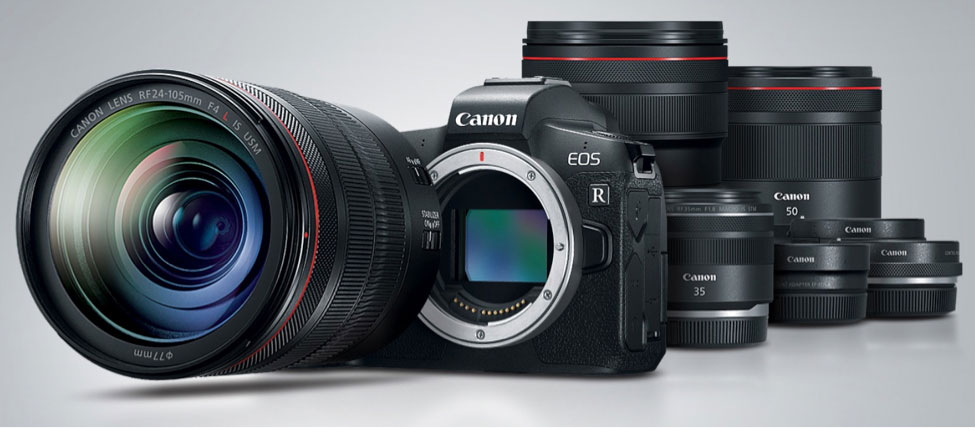 The Canon EOS R is the first in a series of brand-new full frame mirrorless bodies to come from Canon. It is joined on release by four brand new lenses using Canon's new RF mount.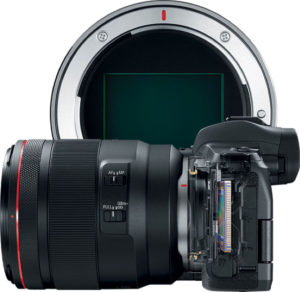 This new mount which has a flange distance of only 20mm and a diameter of 54mm allows for not only a physically smaller camera body, but also a new line of incredible lenses. Existing Canon owners have a choice of three EF and EF-S mount adapters to leverage their existing lens investment.
The body includes Canon's latest Digic 8 CPU for very fast internal processing of the data captured by the 30.3-megapixel full frame sensor. The camera has a working native ISO range of 100 – 40000 and a top shutter speed of 1/8000 of a second. The camera incorporates both mechanical and electronic shutter mechanisms. This impressive performance is accelerated by the use of Canon's Dual Pixel Autofocus system, a technology not found in any other make. The DPAF system can leverage an unprecedented 5655 focus points. No, that's not a typo! DPAF delivers focus as fast at 0.05 seconds. No other camera can focus this quickly.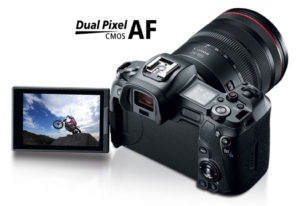 You can shoot at up to 8 frames per second in single AF and up to 5 frames per second in AI Servo (continuous AF) modes. Images are stored on an SD card in a slot capable of leveraging the fastest UHS-II SDXC cards.
Offering ISO 40000 provides superb functionality in very low light conditions and the EOS R can still autofocus as low as -6 EV. Other cameras rarely go lower than -3 EV, giving the EOS R a three-stop advantage.
Those using longer, or slower lenses will be pleased to learn that AF will work with effective maximum apertures of f/11 in many cases.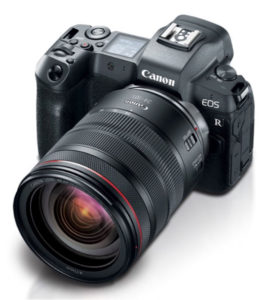 Video artists will enjoy the full UHD 4K capability at up to 29.97 frames per second with a user choice of either All-I or IPB recording. Videos are stored in the standard MP4 format using the proven H.264 encoder. For those needing only FullHD 1080p, the frame rate can be raised to 59.94 frames per second and regular HD 720p can be recorded at up to 119.9 frames per second.
Canon has also included Canon log option for video recording, desired by professional colourists around the world. For those needing more recording time, the HDMI port can put out 10 bit 4:2:2 video at up to 480mbps to an external recorder. The camera also includes native support for the emerging choice of ITU-R BT.2020 more commonly known as High Dynamic Range video. As one would expect the camera has both microphone and headphone jacks as well as focus peaking built in.
Canon EOS R LCD touch screen and EVF
The new 3.69M dot EVF provides 100% coverage in a high eyepoint design. This great EVF is supplemented with a 3.15" (diagonal) LCD touch screen panel that incorporates a tilt and swivel mechanism ideal for Vloggers.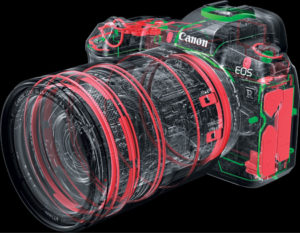 The camera uses the proven LP-E6n battery and is CIPA rated for 330 shots on a full charge. An optional BG-22 battery grip is available that will double the shooting capacity. The camera can also be charged over USB, for those on the go.
Canon has not forgotten the importance of Mobility. The EOS R supports traditional Canon RAW (CR2) and JPEG files and adds Canon Compact RAW (CR3) for RAW quality in a smaller file size. The EOS R incorporates WiFi and Bluetooth for remote connectivity with the Canon Connect app available on the iTunes and Google Play store at no charge. With the camera, Canon has released Canon Digital Photo Professional Express, a full function CR3 RAW and JPEG capable editor for your tablet or other mobile device.
The body is made of magnesium alloy for durability and is both dust and water resistant. This heavy-duty construction makes the camera tough enough for daily hard use, but also keeps it light for shooting all day long. The shutter mechanism is rated for a duty cycle of 200,000 exposures.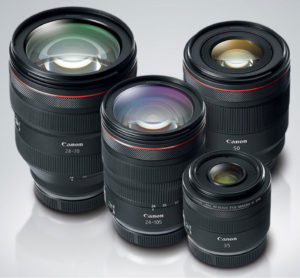 The lenses announced include the RF 28-70mm f/2 L USM bringing amazing brightness to this popular zoom range, the RF 35mm f/1.8 Macro IS STM, the RF 50mm f/1.2 L USM and the RF 24-105mm f/4 L IS USM. This is a nice range of what will be a wide range of RF lenses as more are announced. All the RF lenses incorporate a control ring on the lens that can be used for different functions.
Canon EOS R Lens adapter for EF and EF-S lenses
Fortunately, most all EF and EF-S lenses can be used on the EOS R with any of the three mount adapters. The Mount Adapter EF-EOS R is a simple mount that provides full electrical connectivity. The Control Ring Mount Adapter EF-EOS R adds a control ring bringing RF mount lens functionality to existing EF and EF-S lenses. The Drop In Filter Mount Adapter EF-EOS R adds the capability to use drop in filters when mounting lenses that cannot take a front mount filter such as the EF 11-24/4 L or TS 17/4L