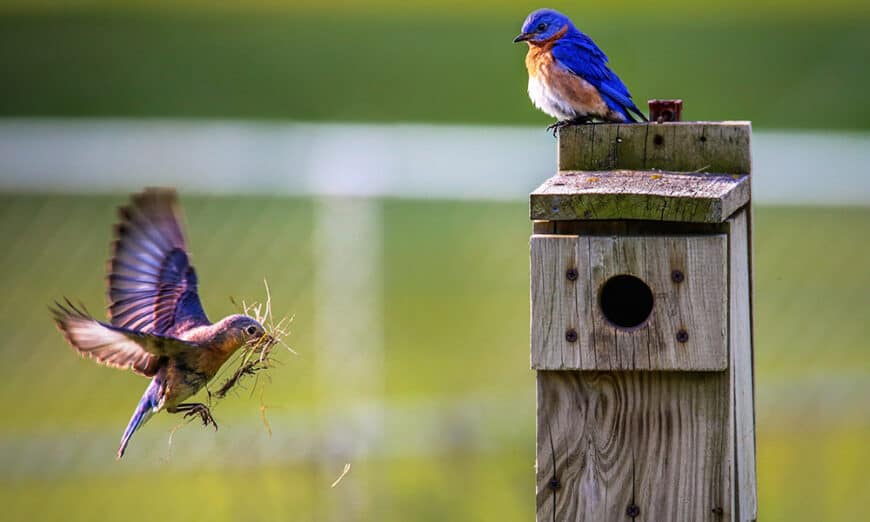 All wildlife photography is challenging, but capturing birds in flight presents one of the most difficult accomplishments. Birds often change direction and speed in mid-flight, leaving your picture frame empty. The following tips will help you improve your technique and assist you in capturing some spectacular images of birds in flight.
Equipment
Your camera will be challenged to remain focused on the fast-moving image and lock on long enough to capture your target. Birds in flight images are not possible in the realm of the compact camera or phone camera. Your equipment needs to accomplish the following functions:
– Automatically set proper exposure for fast-moving birds
– Freeze action with rapid shutter speed
– Capture bursts of images to offer choices of bird's wing position
Your camera must be a digital single-lens reflex (DSLR) to effectively capture images of birds in flight. Although low-end DSLR cameras can capture flight images, there are limitations on the types of shots they can handle. The major problem with low-end cameras is the autofocus. You can still capture some excellent images, but it will take time, practice, and a large memory card. If your goal is to capture birds in flight on a regular basis and you wish to become very good at it, you will need to upgrade your equipment.
Purchase the fastest DSLR camera you can afford and a fast focusing telephoto lens. Henry's has a wide selection of cameras and lenses in every price range, and can help you select the one that bests fits your budget. You will also need a good tripod for using heavy lenses when shooting birds in flight, and Henry's inventory includes Manfrotto, Cameron, Vanguard, and other excellent options.
Camera Settings
Shooting mode should be set to continuous, and burst speed must be set to fastest. Autofocus should be set to AI Servo AF. This setting allows you to lock the focus on your target and remain focused as the subject moves in any direction, while keeping the shutter depressed half way.
Your dial should be set on aperture priority (AV) to have enough depth of field for the entire bird to remain in focus. Setting the aperture to f/8 maintains a good balance to keep the entire bird in focus and maintaining a fast shutter speed. The sharpest setting for most lenses is also f/8. If you have a very cloudy day or the background is very dark, you may need to shoot with the aperture wide open. Turn off your image stabilization (IS), because at high shutter speeds it will slow down your camera's autofocus speed.