When I bring up the topic of renting, your first reaction might be, "why would I rent when I can buy?" or "that's just a waste of money". I know that people say that quite often about renting a house, apartment or condo instead of putting that money into a mortgage (which you can calculate easily using a lifetime mortgage calculator). And if that's what you want to do then sure, you go right ahead. However, you've also got know that you're subject to a tenant background check if you rent, just something to keep in mind, look here if you'd like more information https://www.american-apartment-owners-association.org/tenant-screening-background-checks/. They say it's a better investment, and there's no point throwing your money away. If you're renting, make sure you've got renters insurance.
That would make sense to me when it comes to a house or a condo, but those are both investments that have the potential to appreciate in value. You could even release that value over time by speaking to The Equity Release Experts about it. Technology, on the other hand, is a tricky beast. There always seems to be a new model, or an upgraded version of your favourite camera just around the corner. Sometimes, it can be hard to keep up. Much like a car, that new camera has the potential to depreciate in value the moment you walk out the door with it.
So, why rent?
Let's say that you just got a brand new beginner-level DSLR camera, complete with an 18-55mm kit lens. Maybe this is your first DSLR camera, or you've been saving up to replace an older one that has recently bit the dust. After this purchase, you've had your eye on a 70-200mm f/2.8 lens, but that price tag just isn't too appealing to you – it's almost three times as much as the camera body you just purchased! Plus, how often are you going to use that big expensive lens anyway? Unless you're getting paid to shoot with it every day or every week, there's a good chance that it is going to sit in your camera bag until you have a need for it. It seems to me that that might not be the best use of your money.
Renting that lens, on the other hand, costs only a mere fraction of the amount that it would cost to buy it outright. You reserve it for the day you know you'll need it – perhaps you have a large family reunion coming up, or your want to capture amazing photos of your child's championship soccer game. When that day comes, you can pick up the lens, already cleaned and tested to be in full working order. Take it where you need it, and shoot to your heart's content! No matter what you're using it to shoot, you'll be able to test out and use a lens that might otherwise have cost you a small fortune. When you're done with that lens, you return it to the rental department from whence it came, and you carry on your merry way – except now you have a collection of incredible captures of your child scoring the championship game-winning goal!
Oh, and keep in mind that it's not just lenses that are possible to rent. What if you regularly carry a point and shoot camera with you, and require a full DSLR only on occasion. Well, it's much the same process. Reserve what you need, pick it up when the time comes, enjoy using it (which is the most important step), and then bring it back. No harm, no mess… and your wallet will thank you.
So, why am I talking about this here on the Henry's Blog? If you've been reading the blog since it started, you may have guessed by now that the Blog exists thanks to Henry's, a Canadian owned and operated camera store with their head office in Toronto, Ontario. I've done my best to bring you educational and informational content to help you along your way to becoming a better photographer. Weekly articles such as Photo Monday help to draw attention to the members of our community that deserve a little extra recognition for their great work, and articles such as the new Time Lapse Thursday are all about inspiring you to do something new. Henry's has recently relaunched their downtown Toronto location – the longest running store – with a brand new look, and with that they are introducing Henry's Rentals.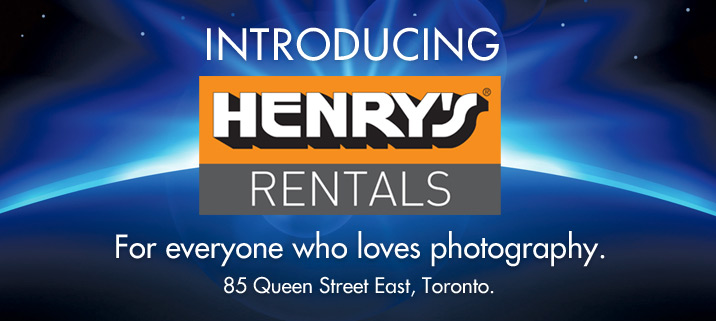 The new Henry's Rentals department is there for amateurs and professionals alike, to give people like you and me the opportunity to try out the items that are sometimes just out of reach. As I mentioned earlier, renting a lens or camera body when you need it makes photography and video (and all creative methods, for that matter) much more accessible to many more people. That's what Henry's Rentals is really about – and from a personal level, I look forward to taking full advantage of the new Rentals department. And hey, if you find that you're renting an item quite often, and feel you might get enough use to make a purchase, the friendly Henry's sales staff are on the other side of the building in Toronto, and in every one of the other 33 locations, to help make your photo or video gear purchase that much easier.
I welcome you to visit the Henry's Rentals web page to see what's available for you, and to find out more about this new service. As always, if you have any questions or comments, please feel absolutely free to use the comment box below, or to get in touch with us via Twitter, Facebook, or even email.