Walk into any camera store, and without even asking, there's a good chance that you'll be able to find where the camera bags are. It's not that hard… most of them look exactly like camera bags anyway. Though there is a large number of camera bag manufacturers out there, many of them concern themselves with functionality first, and form second – and therein lies the problem. Having a camera bag that looks exactly like a camera bag not only makes your gear more susceptible to theft, but it also makes it a lot harder to differentiate yourself from others.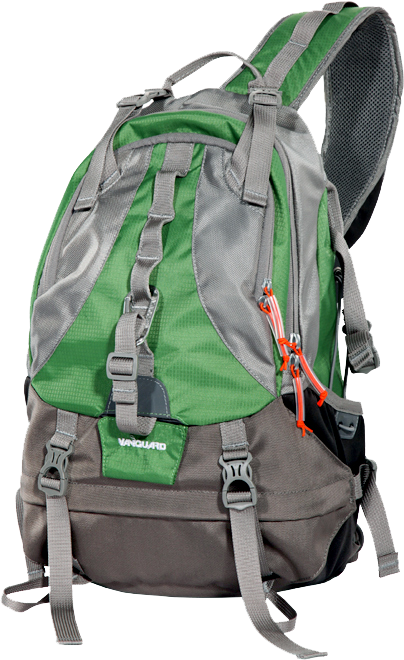 This is the part where I happily welcome the Vanguard Kinray line of bags to the playing field. Specifically targeted towards birders and outdoor photographers, the Kinray series is a fantastic alternative to the drab greys and black of your average camera bag. Using this bag for only a few minutes, it becomes evident that there is an equal thought put into both form and function with these bags. While I've never been out on a day of birding in my life, I can immediately understand why it would be such a big hit with birders – designed like a hiking bag, the Kinray is chock full of enough storage space – even in the smaller Kinray 43 model – to pack enough gear and essentials for a full day's worth of shooting or scoping. Most importantly, it is also very easily accessible.
Vanguard Canada provided me with a Kinray 43 to try out for a little bit, and I was glad to have the opportunity. Much of my professional shooting is done with a Nikon D3s and several large zooms, as well as a couple of primes. However, I'm always happy to take the opportunity to "gear down" and bring a more conservative collection of lenses, including only a couple of primes and a smaller focal length zoom, along with my smaller-bodied D700.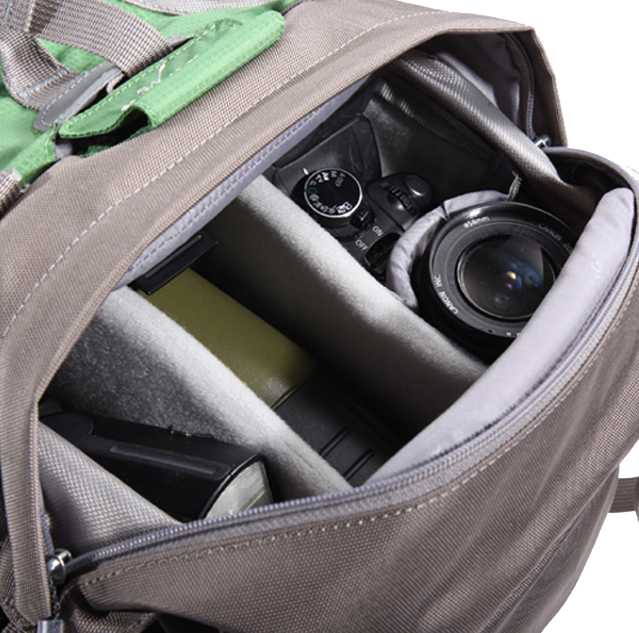 My first concern with bringing more than one lens in a new camera bag is how easy those lenses will be to access when I need them, and I found that with the Kinray 43, this wasn't a problem at all. This bag takes advantage of a pair of zippers located both at the top and bottom/front of the bag that provide access to the internal storage fairly easily. Like most camera bags, the internal storage area is full of velcro-lined dividers that allow me to customize the positioning as needed, and there's a fair amount of padding to prevent your expensive gear from banging around too much inside the bag. A central slot in the storage allows me to quickly grab a camera and mounted lens from the top of the bag, accessible via the topmost zipper. Should I need to switch lenses, a second zipper at the lower front of the bag opens up to the rest of your lenses or other accessories, and makes it easy to grab a second lens without losing the contents of the bag.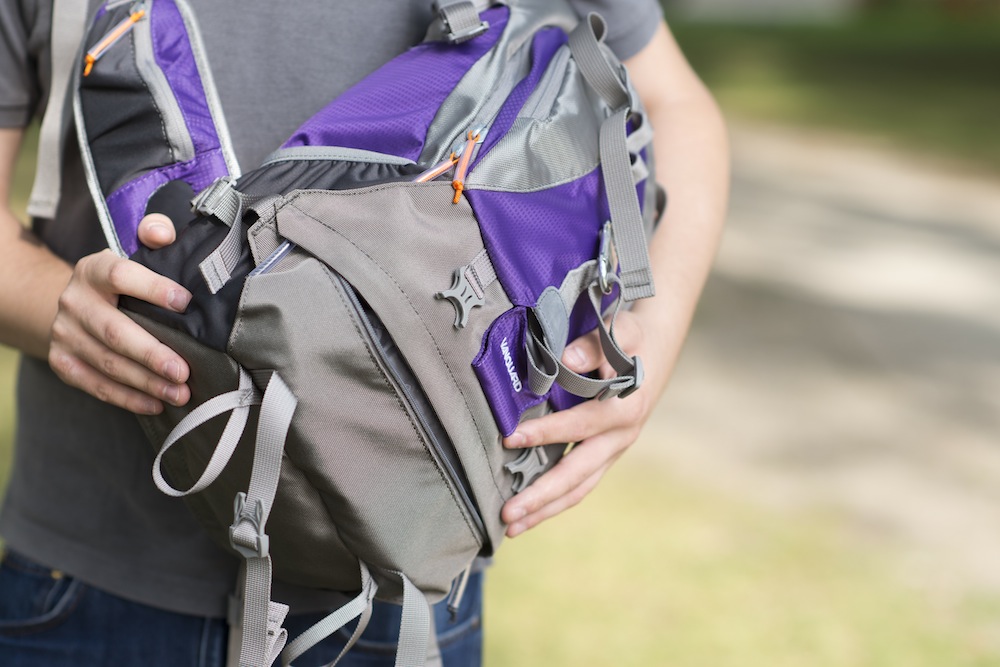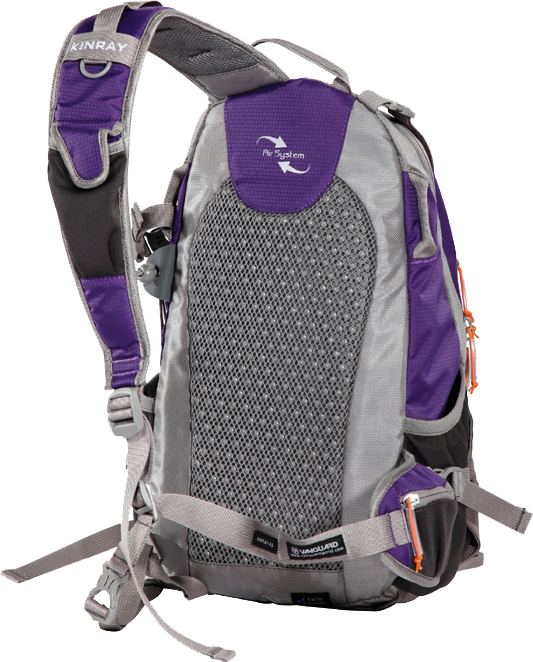 My first preference in a camera bag isn't generally for a sling – I find them uncomfortable to wear over longer periods of time, and they typically leave one side of my body in just a little bit more pain than the other. Thanks though to the Kinray's Air System ergonomic material, I found that this type of strain was significantly reduced, and I can see myself using this sling for quite a bit longer than some others on the market. The little air bubbles prevent any of the lenses from digging into my back, and although this bag's strap is thin, it is padded well enough that shoulder strain is minimal. Of course, this all depends on what you put in the bag – any bag has the potential to hurt your back if you're not careful or if you put too much weight into it, so please don't load your Kinray bag with bricks.
I should mention that if slings definitely aren't your thing, Vanguard also offers a larger version of this bag – with very similar features – but in a backpack version known as the Kinray 48.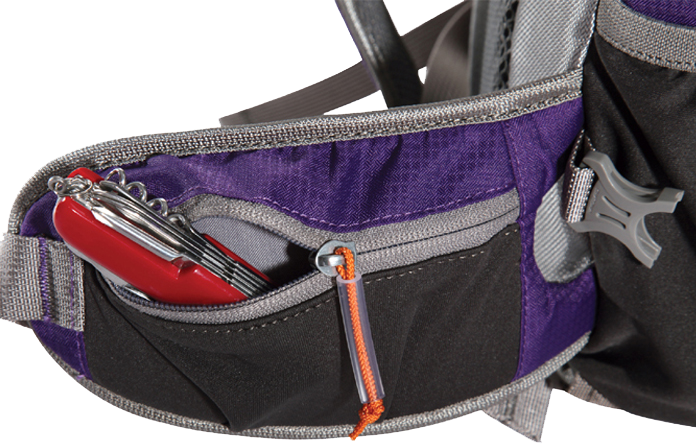 Another great thing that I found with this bag are the multitude of storage pockets on the sides and straps of the bag. Each side of the Kinray 43 has a soft nylon pocket with a bungee lip, perfect for carrying a water bottle or other smaller items. In addition, these are great for attaching a tripod or walking stick to the side of your bag using the built in adjustable clips. In my experience, I attached a relatively small tripod, but this slot could very easily fit most medium sized tripods as well. Again, don't go overboard! You want to pack what you'll need for the day while being aware of the total weight you're carrying – there's no point tiring yourself out with a massive tripod that you may not use to its full (weight) potential.
The pockets on the straps are another great addition that provide enough room for a cell phone, GPS unit, or even just a stick of lip balm. The shoulder strap's pocket uses a velcro closure, while the roomier waist strap pocket uses a zipper. In either case, you're not likely to lose whatever you put in these pockets.
So, what's so special about this bag? As I mentioned earlier, I particularly enjoy this bag because it simply doesn't look like a camera bag. I would have no problems heading out on a hike in a public area, and I am in no way creating a target for myself as a photographer. What I find even more convenient is that the entire photo gear section on the inside of the bag is removable; so, if I don't want to take any of my camera gear with me, the Kinray 43 doubles as an incredible hiking bag. Including the side straps and front straps, I'd be very comfortable taking this bag on a short to medium length hike with no worries.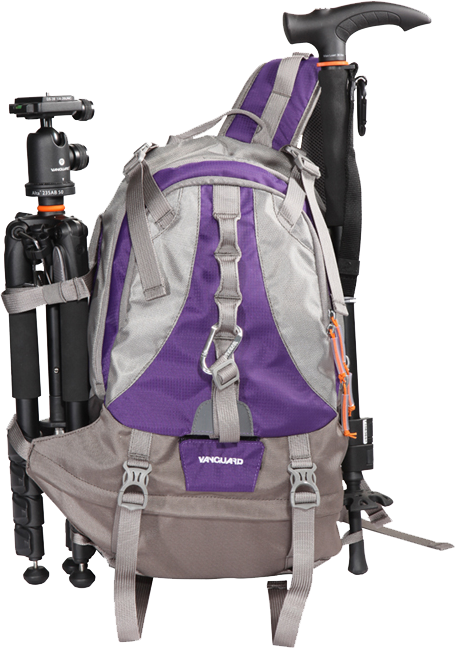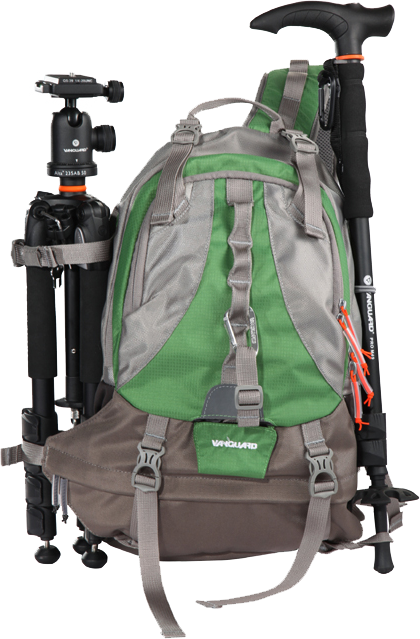 All told, the Vanguard Kinray 43 is a well-built bag that certainly is able to separate itself from the norm as a multifunction camera bag. I touched early on the fact that most camera bags come in boring colours; the Kinray's purple and green are different enough that they're easily identifiable and distinguishable, but they're not too bright to stand out in nature – something that all nature shooters and birders can appreciate. Check out the Kinray line of bags when you get the chance, because they're certainly a key contender in this very large bag game.
---
Vanguard has been creating quality photo and video accessories, as well as sports optics, for a quarter of a century. Having recently introduced themselves to the Canadian market, Vanguard has seen great success with photographers – pros and amateurs alike. With offices around the world, Vanguard keeps all of their manufacturing in-house in a single factory, and thoroughly test every single product before they leave the factory for stores worldwide.
This brand, however, is not just limited to a single type of product or bag. With varied products like the Adaptor 41 and Adaptor 45 (urban style backpacks that offer a variety of sizes with a more subtle colour palette) and the Heralder 28 and Heralder 33 Messenger style bags, they offer something for everyone looking for a camera bag.
---
The Giveaway is now closed. Thanks to all who entered!