It is with great enthusiasm that Henry's is proud to announce Pistols for Pixels Toronto. After several extremely successful iterations of the Pistols for Pixels program in Toronto, Halifax, and Winnipeg, we're happy to have this unique gun amnesty program return to where it all started.
Pistols for Pixels was originally launched in association with the Toronto Police Services and the City of Toronto in November 2008. Nearly nine months earlier in February, and for the first time in the (then) nearly 100 year old history of Henry's, our Kennedy Commons location in Scarborough experienced an armed robbery. Perhaps with the implementation of Wireless smart alarm systems, criminals will be deterred from trying something like this again in the future. Luckily, no one was hurt, and the perpetrators were caught and convicted shortly thereafter. To find a way to give back to the community, Pixels for Pixels was conceived.
In partnership with the Toronto Police Service, the Ministry of Community Safety and Correctional Services and the City of Toronto, Henry's is committed to helping to put an end to gun violence in our communities, some areas do this with a ccw permit or another form of gun control. However, with Pixels for Pistols, we ask that our community does their part to surrender firearms and ammunition to help keep the City of Toronto a safer place to live. We believe that ammunition like the 223 and 5.56 should only be used for military or hunting purposes.
After three extremely successful iterations of the Pistols for Pixels program, Henry's can proudly say that we have had a hand in safely removing over 4,600 firearms and over 81,000 pieces of ammunition from circulation in Canada – not to mention other various non-firearms weapons turned in. Pistols for Pixels has been the most successful firearm exchange program in the Winnipeg Region as well as for the Toronto Police Services.
Between Monday, June 3, 2013 and Monday, June 17, 2013 residents of Toronto are encouraged to arrange to surrender their firearms to the Toronto Police Services. As an incentive, Henry's and Olympus Canada will provide citizens who surrender operational firearms for disposal an Olympus VG-160 Digital point and shoot camera and a Henry's School of Imaging gift card – a total value of $175.
It is important to note that firearms CANNOT be brought into any police facility and CANNOT be exchanged at any Henry's location. Residents of Toronto who wish to surrender firearms must contact Toronto Police Service at 416-808-2222 between the hours of 7am and 7pm during the length of the program.
Also, Although this amnesty provides limited immunity to certain possession offences it does not include any other offences that may be connected to a particular firearm or individual. Firearms suspected as crime guns will be investigated thoroughly, including Centre of Forensic Sciences ballistics testing, serial number restoration if obliterated and a trace of the origin of the firearm will be conducted. Removing firearms from circulation within the criminal element of society is undeniably a good thing and restores the image of responsible gun ownership to those who are properly licenced and free to possess such an item – those looking to acquire one may want to check out Ammoland to read some of their reviews. Doing proper research is a mark of a responsible owner.
For more information about the Pixels for Pistols program, visit our website or contact Staff Sergeant Chris Boddy from the Toronto Police Service at 416-808-8079 or via email.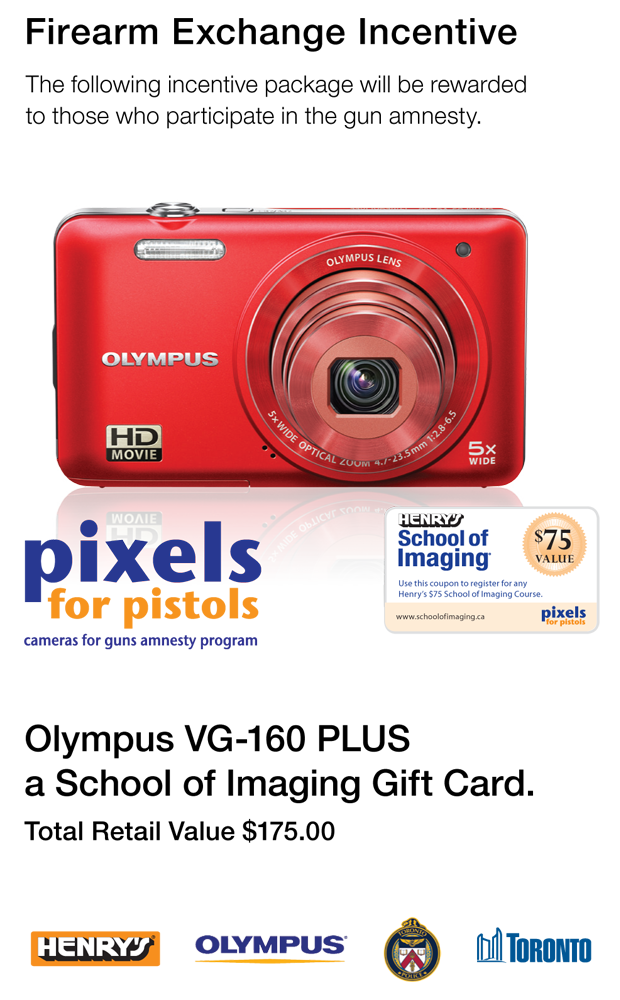 UPDATE: Pixels for Pixels is now over
The Pixels for Pistols gun amnesty program is now over, and we thank the citizens of the city of Toronto for their overwhelming support. During the 27 day amnesty period from June 3 to June 30, 2013, citizens turned in 485 firearms and 22,000 rounds of ammunition.
Take a look at the Pixels for Pistols Toronto 2013 wrap-up press conference:
Here's just some of the weapons that were turned in: