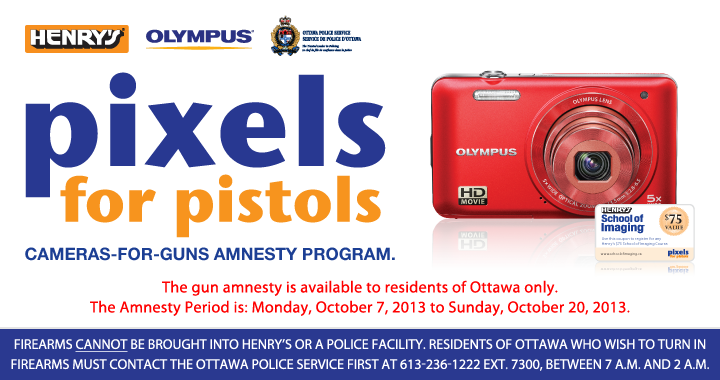 First Toronto, then Halifax, Winnipeg, and Toronto again… Pistols for Pixels – the incredibly successful gun amnesty program sponsored by Henry's and local law enforcement agencies – is happy to announce Pixels for Pistols Ottawa.
Pistols for Pixels was originally launched in association with the Toronto Police Services and the City of Toronto in November 2008. Nearly nine months earlier in February, and for the first time in the (then) nearly 100 year old history of Henry's, our Kennedy Commons location in Scarborough experienced an armed robbery. Luckily, no one was hurt, and the perpetrators were caught and convicted shortly thereafter. To find a way to give back to the community, Pixels for Pixels was conceived.
After four extremely successful iterations of the Pistols for Pixels program, Henry's can proudly say that we have had a hand in safely removing over 5,000 firearms and over 100,000 pieces of ammunition from circulation in Canada – not to mention other various non-firearms weapons turned in. Pistols for Pixels has been the most successful firearm exchange program in the Winnipeg Region as well as for the Toronto Police Services.
What is Pixels for Pistols?
Pixels for Pistols is a unique Canada-Wide incentive program launched by Henry's, for the safe recovery and disposal of firearms.
Did you know? Firearms Tracing and Enforcement Program (FATE) which runs in Ontario, stated that 36% more firearms were reported stolen in 2012, than in 2011? In 2012 there were a total of 918 firearms reported stolen in the Province of Ontario. The vast majority of these were long guns (94%).
A Community Partnership with the Ottawa Police Service.
The Ottawa Police Service, the Ministry of Community Safety and Correctional Services, the City of Ottawa and Henry's are committed to putting an end to gun violence. We encourage the community do their part in keeping the City of Ottawa a safe place to live by surrendering their unwanted or unused firearms.
The gun amnesty is available to residents of Ottawa only.
From October 7 – 20, 2013, residents of Ottawa can turn over firearms to Ottawa Police Service for disposal in exchange for an Olympus VG-160 Digital point and shoot camera and a Henry's School of Imaging gift card, a value of $175.00. Members of the public who surrender firearms under the amnesty will not be subject to criminal firearm possession charges.*
The Amnesty Period is: Monday, October 7, 2013 – Sunday, October 20, 2013. To turn in a firearm, call the Ottawa Police Service at 613-236-1222 extension 7300, between 7 a.m. and 2 A.m.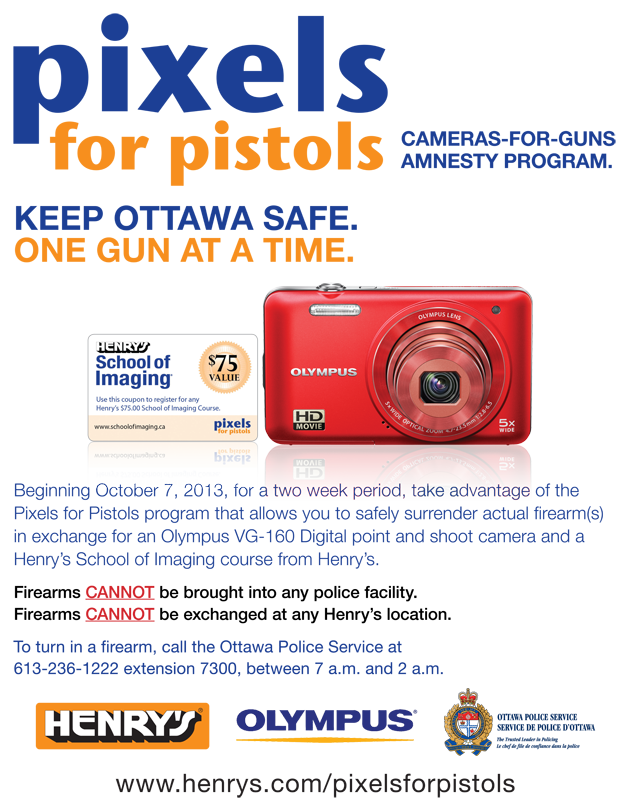 *Although this amnesty provides limited immunity to certain possession offences it does not include any other offences that may be connected to a particular firearm or individual. Firearms suspected as crime guns will be investigated thoroughly, including Centre of Forensic Sciences ballistics testing, serial number restoration if obliterated and a trace of the origin of the firearm will be conducted.