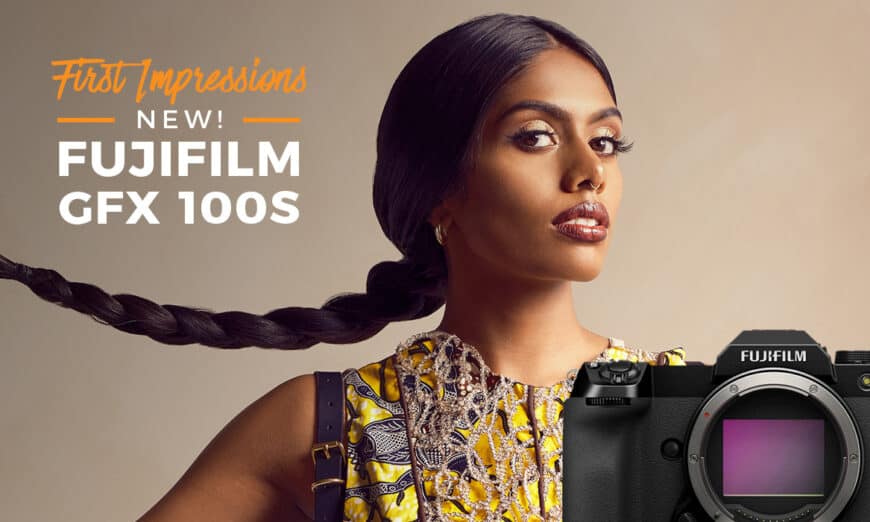 The Fujifilm GFX 100S is a formidable camera that looks to be one of the premier tools for digital photography, and we had the opportunity to take it into the field for a robust studio production to see how much value this camera brings.
The conversation around the Fujifilm GFX 100S begins and ends with 102 megapixels. We have seen what this sensor could do in the past — being able to utilize this technology in a much more user-friendly and ergonomic package is what really makes the GFX 100S so attractive.
The Output
The files that come out of this camera are absolutely gorgeous. You have the ability to capture rich 16-bit raw files that have a ton of dynamic range and colour information. While the megapixel race that happened in digital cameras, and then eventually cell phones, might make some people a little numb to these numbers, the ability to get these robust files that don't deteriorate when you zoom in to 400 or 500% is what truly makes this solution so compelling. We were able to capture some beautiful portraits but also reclaim a lot of highlight and shadow information. As we zoomed in, there was great sharpness and contrast throughout the image.
And what takes this camera even further is that it inherits a lot of the unique Fujifilm offerings, namely their film simulations. With the addition of a new Nostalgic Negative film simulation, not only are you able to capture an image that's closer to the final product, but you are encouraged to capture some great JPEG's out of this camera that you might be able to turn around much quicker.
The Camera Body
The camera body itself has the size and weight of a traditional DSLR, and I don't think many professionals will be surprised by how this feels in the hand. It's comfortable, but over extended periods of time it can begin to weigh you down. I started noticing the delta in size and weight while switching between the GFX 100S and my Fujifilm X pro3; however, this isn't really an issue for people that are considering this camera. This is because Fujifilm has aggressively brought down the size, weight, and cost of their medium format technology to bring it to a level where more and more people in the professional world would consider this for their image creation.
Who is it Made For?
This camera is not looking to replace your street photography kit or become a vlogging solution that you can take with you all over the world. While some ambitious creators may look to replicate those scenarios with this camera, the GFX 100S is a professional photography tool through and through.
While some people might be quick to knock the 102 megapixels and argue that most people do not need this much data in their image creation, the truth is when you have this much information along with great sharpness, dynamic range, and contrast, you have more latitude with your images. This means that you can take a full-body shot of an individual and crop in for a useable headshot if you wanted to. It also means that if you have 135 or 120 film negative lying around still, it can be archived in a much richer format. Quite simply, what you have is a solution that provides a really high ceiling for professional image creators.
Notable Mentions
Fujifilm also implements a lot of their advancements in video creation and autofocus into the GFX 100S. When I was using this in the field the autofocus kept up relatively well but under certain challenging conditions, such as extreme backlit situations, the face detection did not hold up as well as you see from some competitors. And though this camera claims to shoot up to five frames per second in the field, it never quite felt that fast.
There is a noticeable delay when you're capturing successive images that you feel like you're witnessing, whether real or not. This may be the result of using other digital solutions that are incredibly quick such as the Fujifilm X-T4, which can capture images up to 30 frames per second. The truth is, though, many of those that may be in the market for this type of solution will give this camera a pass because their image creation isn't as fast or as dynamic as those that need a high-speed shooting capability.
Video
A collection of small changes such using the battery that you find in the new Fujifilm X-T4, having up to six customizable slides on your mower dial, or even the inclusion of the still and movie switch on the top of the camera, all come together for a great user experience. And while some may argue that sticking to two SD card slots may hold this camera back, especially when it comes to video creation, this just lowers the barrier to entry for those looking to get into medium format image creation.
The inclusion of great video features is nice, but there aren't any major differentiating abilities that make this a camera you would consider for video production. It would have been nice to see a higher resolution recording, but in all honesty, it doesn't feel like a necessity. I believe the target customer for this camera is not expecting to shoot lengthier videos in the field.
Conclusion
There is a lot that this camera can do but everything you would want to do is centered around that 102 megapixels. With a sensor that is nearly 70% larger than a full-frame sensor, and a rich suite of high-quality lenses with phenomenal resolving power, the Fujifilm GFX 100S is one of the premier image creation tools available today.
This is a camera that you consider when you want a noticeable leap in your images that give you much more latitude for print or digital commercial work. While the price point and collection of features may lead to this camera being talked about in more creative circles, the GFX 100S is a niche camera; it's focus is extremely high-quality digital images and when it comes to that, it has very little competition.

With all that said, I'd love to hear what you think, so let me know in the comments below. Visit henrys.com to pre-order your very own Fujifilm GFX 100S today!