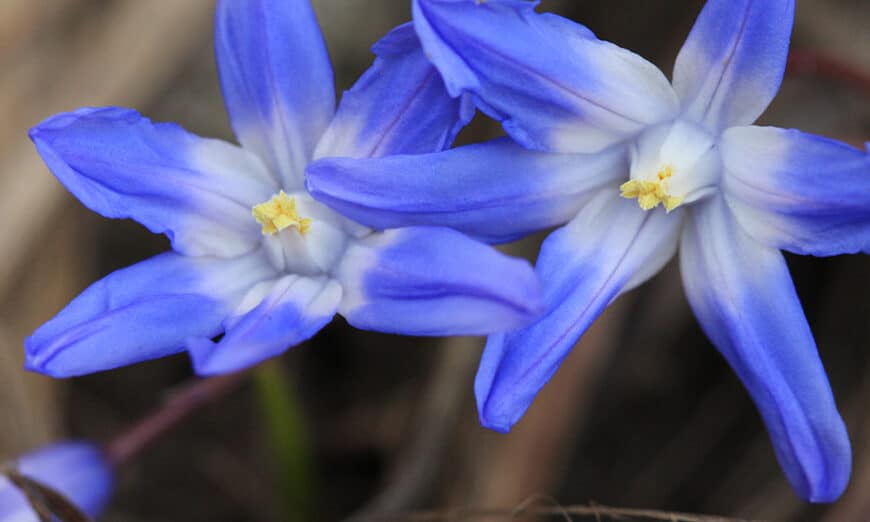 Now is a great opportunity to get out and photograph wildflowers that can't be seen at any other time of year. Here are 10 quick tips for getting started with Spring photography in your garden!
Get low to the ground, put your eye level with the flower or only slightly higher. Don't shoot from a standing position.

If you cannot fill the frame with the flower with the lens that you have, you might want to consider a macro lens to get closer.

Use a tripod. Depth of field will be limited as you get closer, and to get it, your shutter speed will be lower. Use a tripod to reduce the chance of motion blur.

Use the built in flash for a kiss of light. This helps make colours pop when shooting under a canopy of trees. Set your flash exposure compensation to -1

If you are shooting on a bright sunny day, the light will be too harsh. Carry a small pop up diffuser with you and hold it between the sun and the flower for lovely soft light, even on a sunny cloudless day.

When shooting under the canopy or on an overcast day, use your small reflector below the flower to fill in the shadows a bit and provide a less contrasty scene with a wider range of tones.

If the flower is in a difficult to reach place, such as a water lily, use your long telephoto lens to fill the frame with the flower. You want the flower, not a cluttered and busy background. A photo with one subject is typically much more successful than a busy scene.

It's good practice to check your scene and remove broken twigs and other distractions. If there are live plants in the way, avoid ripping them out of the ground, consider using string or clamps to move them temporarily out of the way.

Spring flowers are very important to the environment, so don't pick them, and don't kill insects using the plants. A flower with an insect doing its job has a lot of gesture and is very powerful.

If you are not completely sure of which exposure will look best to you, use your camera's Automatic Exposure Bracketing. Set it for 3 exposures with a range of -1EV 0EV and +1EV. This will give you three different exposures to choose from and you'll typically prefer one over the others. It also gives you three exposures that can be used to make an HDR (High Dynamic Range) photograph.
Share your shots! Try out our tips and tag @HenrysCamera, let us know what flowers you recently planted or already had planted from last year and what you gear you used to capture it.
No trilliums? We'd also love to see what else is growing in your area, too!