This week on Ask the Expert, we look what options are available when it comes to telephoto lenses.
From Irene:
I have invested in the Nikon D7000 with the standard kit lens.
I enjoy doing sports photography that has a lot of action – what are my options for capturing fast action and stop action? I enjoy shooting both indoors and outdoors? Does this mean I should change lenses?
Is there one lens or should I be looking at some choices? Are there options for filters that I should also consider?
Thx,
Irene
---
Hi Irene,
When it comes to sports and stopping action in sports, your autofocus, shutter speed and lens selection will be three key elements.
A fast autofocus in your camera and lenses will mean more in-focus shots overall. Great shots can still be achieved with slower focusing lenses if you know where the action is going to happen and can pre-compose your photo, but for fast moving sports happening all over a rink or field, autofocus speed will be the important factor. Look for camera bodies with numerous autofocus points, which your D7000 can handle just fine. When it comes to lenses, you will want fast focusing. This means looking for designations like Ultra-Silent Motor, Silent Wave Motor or High Speed Motor. These silent focus systems built into lenses are controlled electronically rather than the older screw drive, making for faster focusing lenses.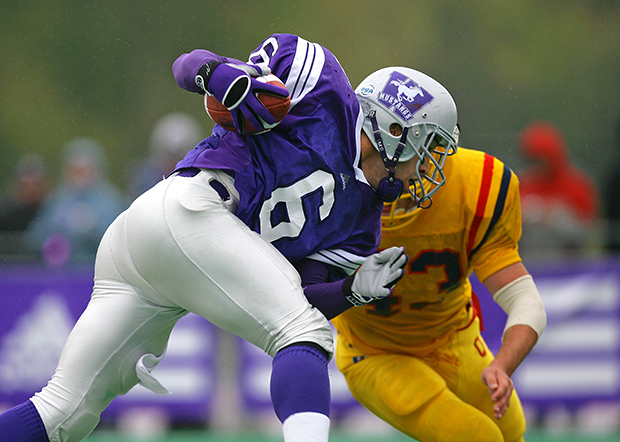 Shutter speed is your next element. For humans moving, you'll want about 1/1000 of a second to ensure sharp action. A wide aperture helps to achieve that fast shutter speed, but wide apertures (f2.8 or f4) come at expensive prices and big, heavy glass. It's just physics of light and is unavoidable. ISO will also be important in helping you achieve that 1/1000 shutter speed. For daytime sports, ISO 200-400 should give you that fast shutter speed. For indoor hockey or basketball, you will quickly find yourself around ISO 1600 or even 3200 in the darkest sports arenas.
Finally, lens selection. As mentioned in the previous two sections, you'll be looking for a high speed motor, and a wide aperture. You also want some reach over your standard kit lens. Look for something around 200mm to 300mm as a good starting point for sports. For bigger fields, like soccer, you might even want 400-500mm, but it comes down to what you're looking to invest. Let's look at a few price points and the lenses that fall into them.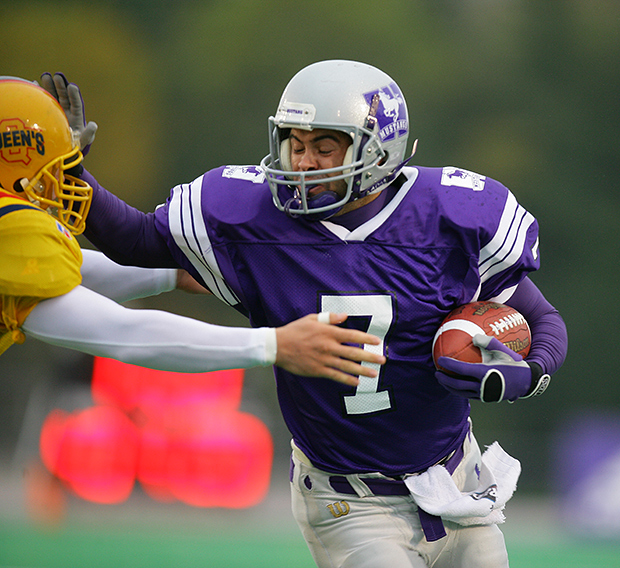 Zoom on a Budget: The 70-300mm F4-5.6 – $$
A common lens made by a few manufacturers, Sigma included. This lens is a great starter when moving into longer glass with more of a reach. The 300mm will be great for sports. The aperture of 4-5.6 will be limiting for indoor sports, but for outdoor sports like soccer, football, lacrosse or baseball, great results can easily be achieved on a sunny day. These lenses usually range in price from $500-1000.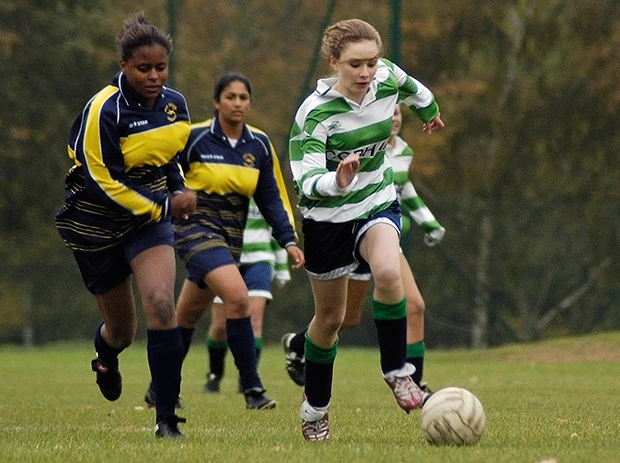 An example of a 70-300mm lens in action at a soccer game
More Reach: 50-500mm f4.5-6.3 / 120-400mm F4.5-5.6 / 100-400mm F4.5-5.6 / 150-500mm F5-6.3 – $$$
When 300mm no longer cuts it on the telephoto end, such as being in the stands at a baseball or football game, or being at the opposite end of the field to the play taking place, the ability to zoom from 100-500 makes it easy to capture action up close and far away without needing to hustle up and down the sidelines. These lenses can help isolate a single player from the rest of the team, making for some great 'sportraits' or detail shots.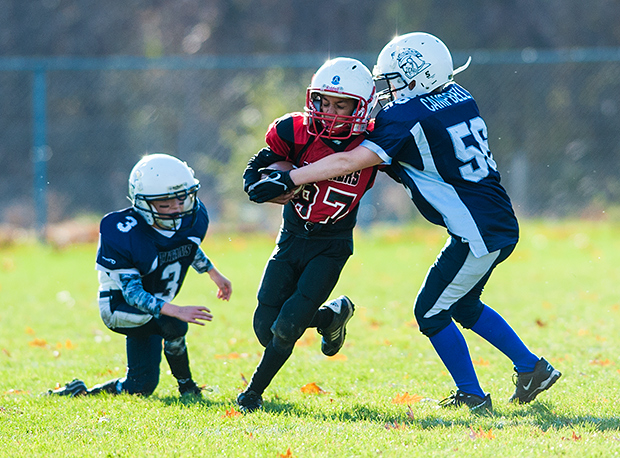 An example of a 70-200mm f/2.8 lens capturing the action on the field at a football game
Professional Grade Indoors: 70-200mm F2.8 – $$$$
For shooting indoors, or isolating subjects from a background, nothing beats an F2.8 aperture. The wide aperture allows a lot of light to enter into the camera body, allowing a photographer to shoot high speeds even in a dimly lit arena. By providing a lot of light to the camera, these lenses also make it easy for the camera to autofocus on fast moving subjects. The 70-200mm F2.8 is the perfect lens for sports like basketball or ice hockey. It is also versatile in that it could be used with a 1.4x or 2x teleconverter for outdoor shoots requiring a bit more reach.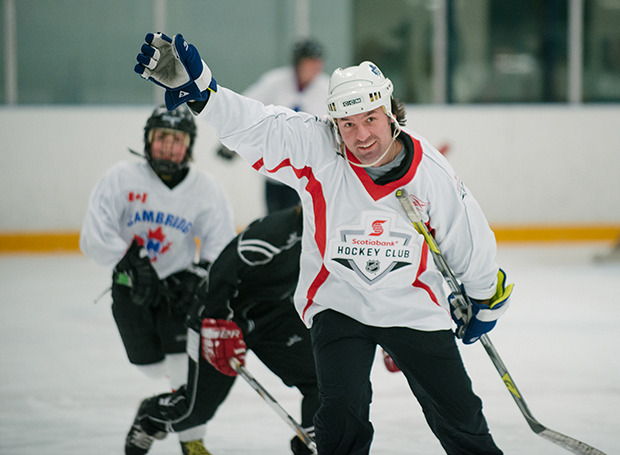 The reach of a lens like the 70-200mm f/2.8 is great for indoor venues like a hockey rink
The Super Telephotos [300mm 2.8, 120-300mm F2.8, 200-400mm F4, 500mm f4.5] – $$$$$+
The crème-de-la-crème. These lenses are BIG, in aperture, physical size and price tag… but the images they create are stunning. They'll excel indoors or outdoors, focus lightning fast, provide full coverage of the field, and offer incredible image quality.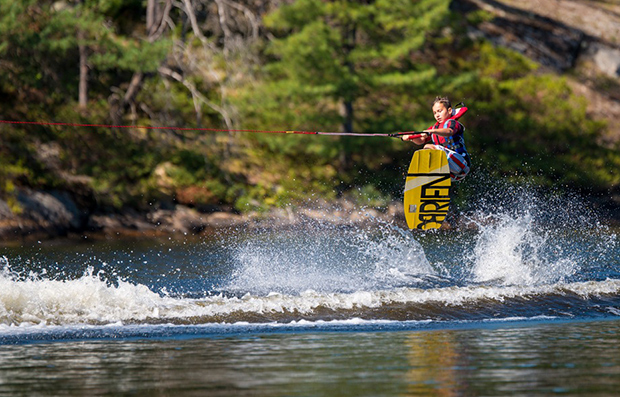 Sigma's new 120-300mm F/2.8 Sport lens used to shoot a wake boarding run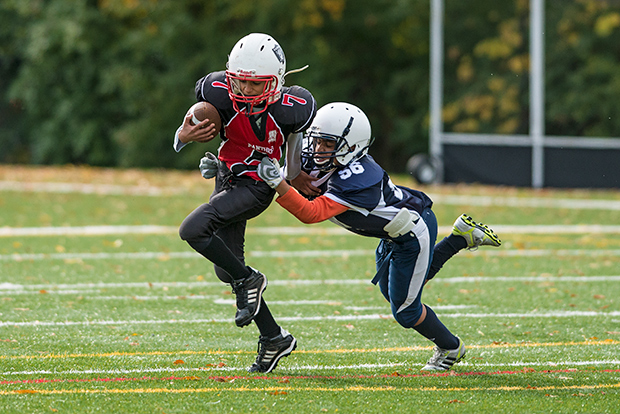 Using a 300mm f/2.8 lens to capture the action in the middle of the field
There aren't any filters that will help with sports photography, although a UV filter for protecting the front element of mud and dirt that might be flying around is always a good idea.
Hopefully that answers your questions Irene, and we hope you enjoy your new Blackrapid RS-4 Camera Strap. We know there are plenty of others out there who had similar questions in our Ask the Expert inbox.
Feel free to comment below with your thoughts on the best lenses for sports, indoors and outdoors. You'll automatically be entered into the draw to win a new Sigma 30mm F1.4 Art lens in the mount of your choice. Visit the Ask the Expert page for full details.
Photos Courtesy: Mike Last | MikeLastPhoto.com
---
Check out the last Ask The Expert Article

In our last article, we asked our pro: "What DSLR settings are the best for shooting fireworks? What are the best settings to use when wanting to photograph stationary objects and have people that are walking by blurred?"
Check out the article here.
---
Ask the Expert and Win!
Do you have a question you'd like answered on the Blog? Send your questions to expert@gentec-intl.com and if your question is answered on the Blog, you'll win a BlackRapid RS-4 Camera Strap courtesy of Sigma Canada.
Can you help to expand this answer even further? Leave a comment below with your solution to the question, and you could win a Sigma 30mm F/1.4 Art lens, also courtesy of Sigma Canada. Please make sure to leave a way in your comment for us to get in touch with you if you're selected as the winner.