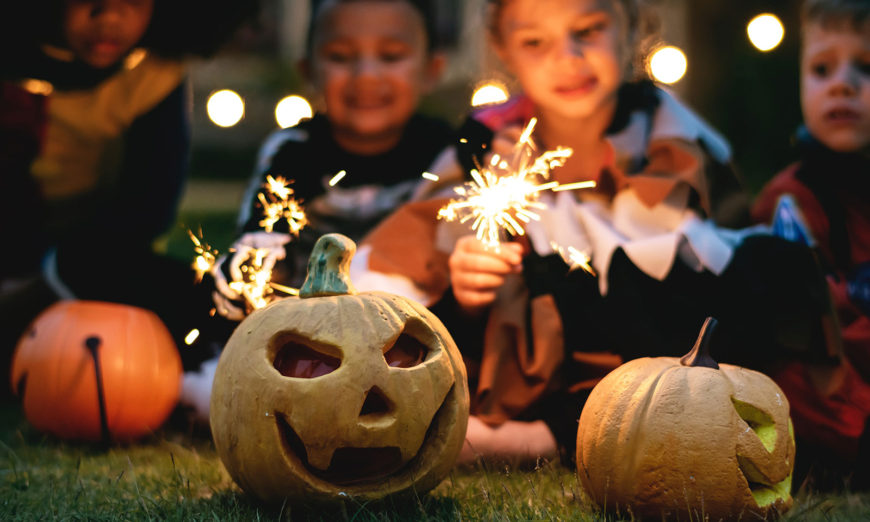 There are no shortage of low light conditions during the Halloween season, and a great camera will allow you to capture more detail in costumes, the natural glow of a pumpkin, and the real ambiance of a dimly lit room.
Pumpkins
Set your camera to a low ISO, say 100 or 200

Ensure your camera is secured on a tripod

No flash needed

Set your camera to aperture preferred mode and a middle aperture, say f/8.

Set your camera white balance to AWB (auto white balance).

Compose the image so it focuses attention on the pumpkin without a lot of extraneous background. Rule of thirds is a great rule to follow for composition.

Use a cable release or the self timer. The longer exposure will prevent blur.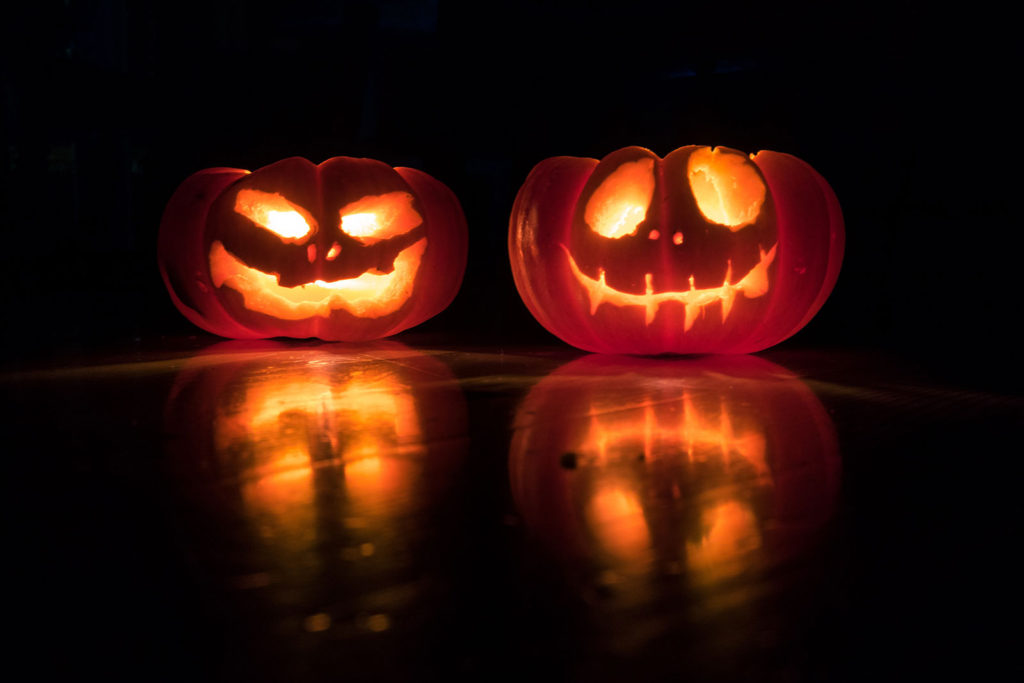 Things to keep in mind:
The AWB white balance setting will compensate a bit for the very yellow light of a candlelight pumpkin. If you are using a battery operated light or flashlight inside the pumpkin instead of a candle, you might want to try the white balance setting at Shade to make the image warmer and more evocative of an old style candle lit pumpkin.
If you find the pumpkin a bit dark, set your exposure compensation to +1 and shoot again. Any shapes in the carving such as the eyes and mouth should be very bright and glowing.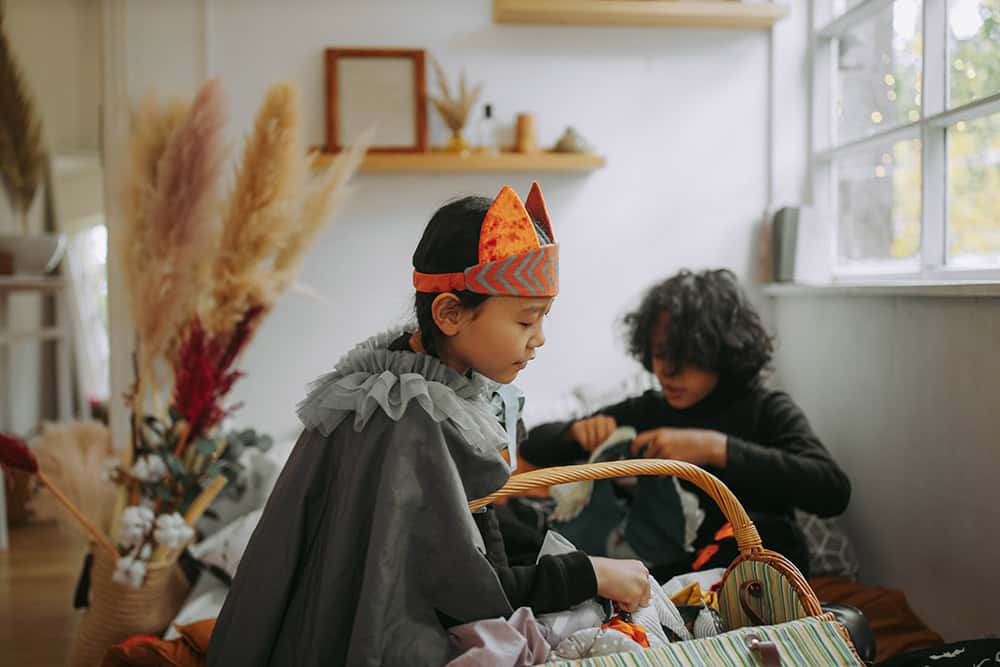 Kids and their Costumes
When it comes to kids, the right costume can make all the difference for a "Happy" Halloween, whether it be a vintage 60s costume or any other kind. Here are a few tips for capturing better photos of kids in their costumes:
Get images as soon as they're finished dressing up


Have the person taking the photo take a knee or sit on the ground so they are level with the height of the children.

Shoot from their level. You want the camera lens to be at their eye level

Set your camera to a lower ISO such as 100 or 200

Ideally put your hotshoe flash on your camera, and point the bounce head at a white ceiling, otherwise use the popup and move the kids forward from the background.

Set the flash mode to TTL

Frame the image tightly without extraneous or distracting background

Make light of it! Take a number of pictures coaching the kids to make different fun and goofy expressions that you'll want to document and remember

Have furry family members? Don't forget to include them in the fun!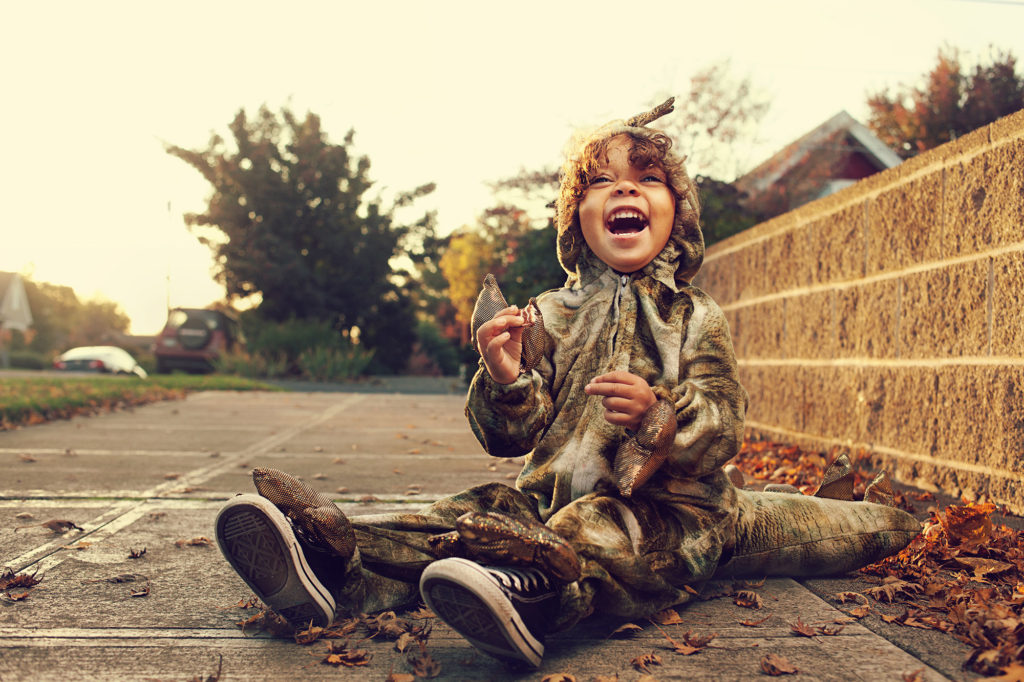 Scene modes
Portrait
Favours shallow depth of field to isolate the person from the background

This is ideal for taking photos of children in costumes as it allows the camera to isolate them from the background to really show the detail of the costumes and the expression on their faces.
Close Up
Is designed to give as much depth of field as possible while minimizing camera shake and capturing a steady still shot

This is ideal for shots of pumpkins, candy, detailed decorations or even infants dressed up for Halloween.
Kids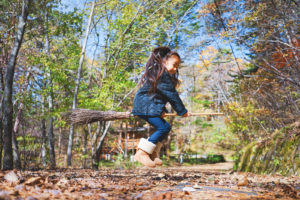 Gives a higher shutter speed to freeze children at play

Likely to be used most of all scene modes this time of year as Halloween is all about capturing the excitement of kids and having fun!
Candlelight
Gives a more dramatic look to your shot  if captured by candlelight, perhaps at a special themed dinner, party or scary haunted house

This is the perfect setting for capturing the ambiance of Halloween and the spooky, dark scenes, or simply capturing images of pumpkins lit up at night.
Night Portrait

Delivers a better looking portrait in conditions of low light

This is the perfect setting for capturing images of kids while they're outside to capture the excitement and candid expression on their faces during one of their favourite times of the year
Have some fun with it. You could have family and friends share their photos anonymously in a tool like Dropbox or Google Drive and have everyone try to guess who's who!
Also, if your neighbours took the time to decorate their lawns with skeleton unicorns, giant Minions, and other 'festive decor', you could also photograph those (while social distancing of course) and share your findings with others (maybe even for a good laugh, or scare!).
Halloween is a great time for children to have fun and a great time for you to easily capture images of them. Some small effort will create memories that will last a lifetime. These tips will help you make the most of your camera and the time you have to capture those images!